Album: Aligned with the True Death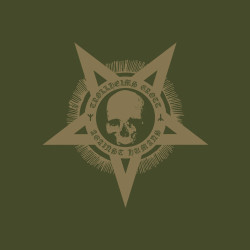 Album: Aligned with the True Death
Band:
Trollheims Grott
Data di uscita: 2018
Etichetta:
W.T.C. Productions
Genere:
Black
Nazione:
Recensione:
Aligned With The True Death
Scavando nel passato dei Trollheim's Grott si arriva fino al 1998, anno in cui la band finlandese ha dato alla luce la prima demo, alla quale è poi seguita una seconda pubblicazione, un live album e una terza demo, preludio per il vero e proprio esordio discografico datato 2000. Fu l'anno...
Leggi tutta la recensione
Tracklist
1. Aligned with the True Death 07:33
2. Deathless Form 06:03
3. Omega Angel 07:33
4. Holy Black Sun 06:37
5. Twilight 03:26
6. LXFR 05:56
7. Earth's Last Stand 07:17
Formazione
TG Bass
lrh Drums, Guitars, Songwriting
sg.7 Vocals, Synthesizer, Noises