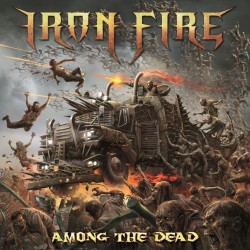 Album: Among the Dead
Band:
Iron Fire
Data di uscita: 2016
Etichetta:
Crime Records
Genere:
Power
Nazione:
Recensione:
Among the Dead
Gli Iron Fire sono uno di quei nomi che ogni fanatico del power anni Novanta dovrebbe conoscere. Una band che probabilmente non ha lasciato il segno come altre compagini hanno saputo fare nel genere, ma che ha indiscutibilmente contribuito ad alimentarne e mantenerne viva la fiamma. La formazione danese...
Leggi tutta la recensione
Tracklist
01. Intro (The Lost City)
02. Among the Dead
03. Hammer of the Gods
04. Tornado of Sickness
05. Higher Ground
06. Iron Eagle
07. Made to Suffer
08. The Last Survivor
09. No Sign of Life
10. Ghost from the Past
11. When the Lights Go Out
12. For Whom the Bell Tolls (Metallica cover)
Formazione
Martin Steene: Vocals, Bass
Kirk Backarach: Guitars
Gunnar Olsen: Drums