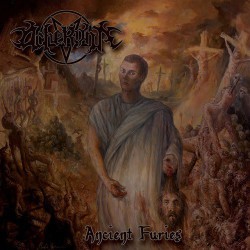 Album: Ancient Furies
Band:
Acheronte
Data di uscita: 2016
Etichetta:
Satanath Records
Genere:
Black
Nazione:
Recensione:
Ancient Furies
«Acheronte, il fiume del dolore: ramo dello Stige che scorre nel mondo sotterraneo dell'oltretomba, attraverso il quale Caronte traghetta nell'Ade le anime dei morti.» Acheronte, fiume del dolore. Acheronte, fast black metal band italiana, nata nel 2010 a San Benedetto del Tronto (AP) e giunta...
Leggi tutta la recensione
Tracklist
01. Addicted to War (Assurnasirpal II) 4:35
02. Destroyer for the Glory (Alexander The Great) 5:09
03. Ancient Persecutor of Christianity (Diocletian) 5:05
04. Flagellum Dei (Attila) 5:36
05. The Lame One (Timur Barlas) 4:07
06. The Lord Impaler (Vlad III) 5:25
07. Bloods for the Gods (Ahuitzotl) 7:01

Durata complessiva 36 min. ca.
Formazione
Lord Baal - Voce
Phobos - Chitarra, voce
A.T. La Morte - Basso
Lars - Batteria