Album: Antillius: The King Of Light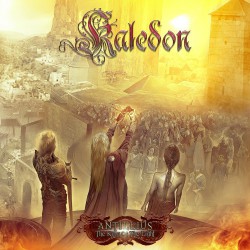 Album: Antillius: The King Of Light
Band:
Kaledon
Data di uscita: 2014
Etichetta:
Scarlet Records
Genere:
Power
Nazione:
Recensione:
Antillius: The King Of Light
Una luce intensa pervadeva ogni antro di Kaledon e la città placida viveva un periodo di splendore senza uguali. Gli abitanti lavoravano e prosperavano da pari. La pace finalmente colmava quel lembo di terra dopo anni di guerra e sangue. Il re Antillius era l'artefice del ritrovato splendore e i...
Leggi tutta la recensione
Tracklist
01. In Aeternum
02. The Calm Before The Storm
03. Friends Will Be Enemies
04. Elisabeth
05. New Glory Fot The Kingdom
06. The Party
07. The Evil Conquest
08. Light After Darkness
09. The Angry Vengenace
10. My Will
11. The Glorious Blessing
12. The Fallen King
Formazione
Marco Palazzi - Voce
Tommy Nemesio - Chitarre
Paolo Lezziroli - Basso
Alex Mele - Chitarre
Luca Marini - Batteria
Paolo Campitelli - Tastiere