Album: Breaking The Fourth Wall [CD + DVD]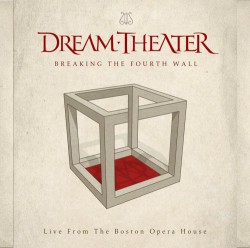 Album: Breaking The Fourth Wall [CD + DVD]
Band:
Dream Theater
Data di uscita: 2014
Etichetta:
Roadrunner Records
Genere:
Progressive
Nazione:
Recensione:
Breaking The Fourth Wall [CD + DVD]
La videografia dei Dream Theater, così la loro discografia, è ormai tanto nutrita che anche il fan più incallito fatica a stare al passo con i tempi. Breaking The Fourth Wall è l'ottavo dvd live dei newyorkesi, a nemmeno un anno di distanza dal buon Live At Luna Park. Ennesima...
Leggi tutta la recensione
Tracklist
01. The Enemy Inside (06:17)
02. The Shattered Fortress (12:44)
03. On the Backs of Angels (08:48)
04. The Looking Glass (04:46)
05. Trial of Tears (15:22)
06. Enigma Machine (08:21) (strumentale)
07. Along for the Ride (04:52)
08. Breaking All Illusions (12:28)
09. The Mirror (06:46)
10. Lie (07:56)
11. Lifting Shadows off a Dream (06:27)
12. Scarred (11:41)
13. Space-Dye Vest (07:48)
14. Illumination Theory (19:25)
15. Overture 1928 (03:41) (strumentale)
16. Strange Deja Vu (05:08)
17. The Dance of Eternity (06:16) (strumentale)
18. Finally Free (09:56)
Formazione
John Myung – basso
Mike Mangini – batteria
Jordan Rudess – tastiera, seaboard, continuum, zen riffer
James LaBrie – voce
John Petrucci – chitarra, seconde voci

Barklee College of Music – orchestra e coro
Eren Başbuğ – conduttore d'orchestra