Album: Crawling Out Of The Crypt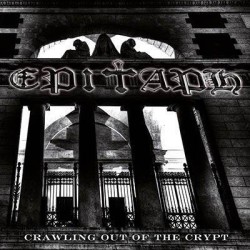 Album: Crawling Out Of The Crypt
Band:
Epitaph
Data di uscita: 2014
Etichetta:
High Roller Records
Genere:
Doom
Nazione:
Recensione:
Crawling Out Of The Crypt
Finalmente! Questa è stata la prima cosa che ho pensato quando sono venuto a conoscenza che i veronesi Epitaph avrebbero pubblicato il loro full length di debutto, a oltre vent'anni dal loro primo demo, quel "The Lord Of Evil" che ne creò il culto. Per chi non conoscesse la storia...
Leggi tutta la recensione
Tracklist
01. Beyond the Mirror
02. Ancient Rite
03. Sacred and Prophane
04. The Battle of Inside
05. Daughters of Lot
06. Loser One
07. Necronomicon
08. Confuse the Light
Formazione
Emiliano Cioffi - Vocals
Lorenzo Loatelli - Guitars
Nicola Murari - Bass
Mauro Tollini - Drums