Album: Denied Resurrection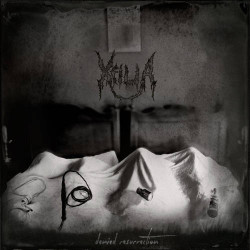 Album: Denied Resurrection
Band:
X-Filia
Data di uscita: 2016
Etichetta:
Autoprodotto
Genere:
Death
Nazione:
Recensione:
Denied Resurrection
Dopo un demo ("Athanathos", 2007) e un EP ("EP", 2010), giunge finalmente l'ora del debut-album, per i veneti X-Filia: "Denied Resurrection". Alvise (voce, drum programming), Guglielmo (chitarra), Carlo (chitarra) e MrVitz (basso) è da un bel po' che calcano le scene e, ovviamente, ciò si...
Leggi tutta la recensione
Tracklist
01. Silver Halide 3:53
02. Deny Your God 2:50
03. Festered Inside 4:31
04. Crematorium 3:27
05. Waltz of the Liar 4:34
06. Suicidal Hallucination 4:21
07. Lycanthropic Church 3:13
08. Vomiting Human Flesh 3:25

Durata complessiva 30 min. ca.
Formazione
Alvise - Voce, drum programming
Guglielmo - Chitarra
Carlo - Chitarra
MrVitz - Basso