Album: Fall In Love With The World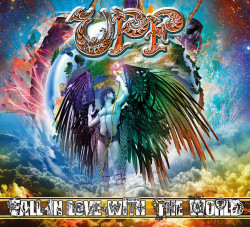 Album: Fall In Love With The World
Band:
United Progressive Fraternity
Data di uscita: 2014
Etichetta:
Inside Out
Genere:
Progressive
Nazione:
Recensione:
Fall In Love With The World
"Ehi ma, io questa voce la conosco. Aspetta che guardo i crediti… Porca… Sono gli Unitopia rifondati!" Diciamolo pure, dopo il comunicato che segnalava lo scioglimento di quella fantastica band australiana, me n'ero fatto una ragione, e con me molti altri. Non ci sarebbero...
Leggi tutta la recensione
Tracklist
1 We Only Get One World (Overture) (04:01)
2 Choices (08:32)
3 Intersection (08:58)
4 The Water (05:21)
5 Don't Look Back - Turn Left (05:36)
6 Travelling Man (The Story Of ESHU) (21:41)
7 Fall In Love With The World (04:35)
8 Religion Of War (03:49)
Formazione
Matt Williams - chitarra;
Dave Hopgood – batteria;
Tim Irrgang - percussioni;
Mark 'Truey' Trueack – voce;
Guy Manning: (The Tangent) – tastiera, chitarra
Marek Arnold (Toxic Smile, Seven steps to the green door) – sax, clarinetto
Dan Mash (The Tangent, Maschine) – Basso