Album: Flesh for Funerals Eternal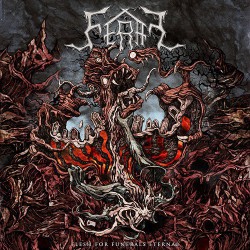 Album: Flesh for Funerals Eternal
Band:
Feral (Swe)
Data di uscita: 2018
Etichetta:
Transcending Obscurity Records
Genere:
Death
Nazione:
Recensione:
Flesh for Funerals Eternal
Nuove band, nuova linfa allo swedish death metal. Quello vero, non imbastardito da paturnie progressiste o contaminatrici. Quello figlio dei Dismember, cioè, a parere di chi scrive la band che più abbia rappresentato lo spirito e la carne del sottogenere death nato a Stoccolma un quarto di...
Leggi tutta la recensione
Tracklist
01. Vaults of Undead Horror 3:55
02. Black Coven Secrets 4:05
03. Gathering Their Bones 4:49
04. Dormant Disease 3:47
05. Of Gods No Longer Invoked 4:23
06. Accursed 4:36
07. Horrendous Sight 3:27
08. Stygian Void 4:22
09. Buried 5:03
10. Bled Dry 2:40

Durata complessiva 41 min. ca.
Formazione
David Nilsson – Voce
Sebastian Lejon – Chitarra
Markus Lindahl – Chitarra
Viktor Klingstedt – Basso
Roger Markström – Batteria