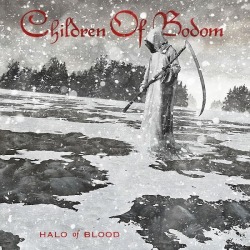 Album: Halo Of Blood
Band:
Children of Bodom
Data di uscita: 2013
Etichetta:
Nuclear Blast Records
Genere:
Death
Nazione:
Recensione:
Halo Of Blood
Chi lo avrebbe mai detto? Dopo aver passato gli ultimi anni a cercare di rendersi più orecchiabili, ammiccando spudoratamente a un pubblico di giovanissimi con risultati che definire deludenti è un eufemismo, i Children Of Bodom riescono a piazzare una zampata degna dei loro entusiasmanti...
Leggi tutta la recensione
Tracklist
01. Waste Of Skin 4:16
02. Halo Of Blood 3:12
03. Scream For Silence 4:09
04. Transference 3:58
05. Bodom Blue Moon (The Second Coming) 4:14
06. Your Days Are Numbered 3:40
07. Dead Man's Hand On You 4:58
08. Damaged Beyond Repair 4:20
09. All Twisted 4:51
10. One Bottle And A Knee Deep 4:02

Durata 42 min. ca.
Formazione
Alexi Laiho – Chitarra, voce
Roope Latvala – Chitarra
Henkka Seppala – Basso
Janne Wirman – Tastiere
Jaska W. Raatikainen – Batteria