Album: Heavy Metal Thunder - The Movie [2 Dvd]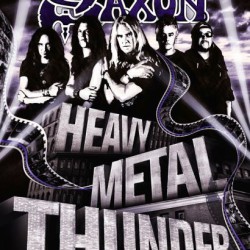 Album: Heavy Metal Thunder - The Movie [2 Dvd]
Band:
Saxon
Data di uscita: 2010
Etichetta:
Coolhead Productions
Genere:
Heavy
Nazione:
Recensione:
Heavy Metal Thunder - The Movie [2 Dvd]
L'attesissimo - e in ritardo M O S T R U O S O per vari motivi, rispetto alla data di uscita fissata, originariamente prevista per dicembre 2009! – Heavy Metal Thunder/The Movie, il film sulla storia degli inglesi Saxon, vede finalmente la luce nella Sua versione Limited Special Edition,...
Leggi tutta la recensione
Tracklist
Double DVD release of this documentary about the veteran British Heavy Metal band. Includes interviews with members of Saxon, past and present as well as fellow musician Lars Ulrich, Lemmy, Fast Eddie, Harvey Goldsmith, Steve Strange, Dave Poxon, Geoff Barton and many others. Apart from the documentary, this release also includes a plethora of bonus live performances from various stages of the band's career.
Formazione
Biff Byford Vocals
Graham Oliver Guitars
Pete Gill Drums
Paul Quinn Guitars
Steve Dawson Bass