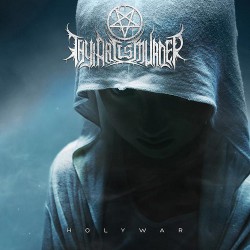 Album: Holy War
Band:
Thy Art is Murder
Data di uscita: 2015
Etichetta:
Nuclear Blast Records
Genere:
Death
Nazione:
Recensione:
Holy War
Giunti al terzo album, "Holy War", i Thy Art Is Murder rappresentano la tipica anomalia intrinseca a un insieme altrimenti omogeneo e compatto. Nel caso in esame la famiglia è quella del deathcore, anche se la spaventosa furia devastatrice del combo australiano può comprendere anche...
Leggi tutta la recensione
Tracklist
01. Absolute Genocide 4:26
02. Light Bearer 3:56
03. Holy War 4:00
04. Coffin Dragger 2:56
05. Fur And Claw 4:17
06. Deliver Us to Evil 3:07
07. Emptiness 4:03
08. Violent Reckoning 2:55
09. Child Of Sorrow 3:34
10. Naked And Cold 5:31
11. Vengeance 2:23

Durata complessiva 41 min. ca.
Formazione
CJ McMahon – Voce
Andy Marsh – Chitarra
Sean Delander – Chitarra
Kevin Butler – Basso
Lee Stanton – Batteria