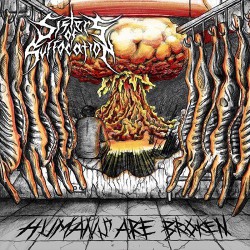 Album: Humans Are Broken
Band:
Sister Of Suffocation
Data di uscita: 2016
Etichetta:
Napalm Records
Genere:
Death
Nazione:
Recensione:
Humans Are Broken
Secondo full-length per le quattro feroci donzelle provenienti dai Paesi Bassi, meglio conosciute come Sister Of Suffocation. Anche se, a onor del vero, in formazione un maschio c'è: il batterista Kevin van den Heiligenberg. Una scelta intelligente, poiché la forza muscolare nuda e cruda si...
Leggi tutta la recensione
Tracklist
01. Humans Are Broken 3:04
02. Wolves 2:57
03. War in My Head 2:38
04. The Machine 4:00
05. What We Create 3:06
06. Liar 4:43
07. Little Shits 4:33
08. The Next Big Thing 4:22
09. Blood on Blood 4:07
10. The Objective 3:14
11. Burn 4:11

Durata complessiva 40 min. ca.
Formazione
Els Prins – Voce
Simone van Straten – Chitarra
Emmelie Herwegh – Chitarra
Puck Wildschut – Basso
Kevin van den Heiligenberg – Batteria