Album: It's More Than Rock And Roll [EP]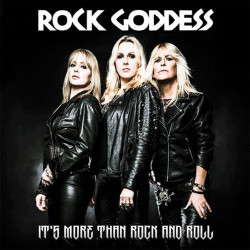 Album: It's More Than Rock And Roll [EP]
Band:
Rock Goddess
Data di uscita: 2017
Etichetta:
Bite You To Death
Genere:
Heavy
Nazione:
Recensione:
It's More Than Rock And Roll [EP]
Bionde, grintose, ottantiane e tutte coperte di pelle. Niente a che vedere però con le chiome da parrucchiere di Vixen, Phantom Blue, Femme Fatale e Lita Ford. Siamo piuttosto dalle parti di Warlock, Hellion, Chastain, Girlschool, tutte band che in quel mitico decennio avevano qualcosa in comune...
Leggi tutta la recensione
Tracklist
1. It's More Than Rock And Roll 05:17
2. Back Off 04:20
3. We're All Metal 03:49

Durata complessiva: 13:26
Formazione
Tracey Lamb - Bass
Julie Turner - Drums
Jody Turner - Vocals, Guitars