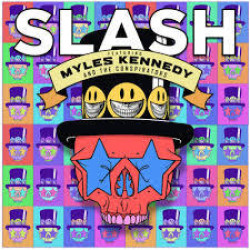 Album: Living the Dream
Band:
Slash
Data di uscita: 2018
Etichetta:
Roadrunner Records
Genere:
Hard Rock
Nazione:
Recensione:
Living the Dream
Ed eccoci qui a parlare del quarto disco solista di Slash, il terzo con alla voce Myles Kennedy, una delle due ugole più belle uscite nel nuovo millennio (Chi è l'altra? Ovviamente David Draiman dei Disturbed n.d.r.). Slash e Kennedy non hanno sicuramente bisogno di presentazioni, tanto...
Leggi tutta la recensione
Tracklist
01. The Call of the Wild
02. Serve You Right
03. My Antidote
04. Mind Your Manners
05. Lost Inside the Girl
06. Read Between the Lines
07. Slow Grind
08. The One You Loved Is Gone
09. Driving Rain
10. Sugar Cane 8
11. The Great Pretender
12. Boulevard of Broken Hearts
Formazione
Myles Kennedy: voce
Slash: chitarra
Frank Sidoris: chitarra ritmica
Todd Kerns: basso
Brent Fitz: batteria