Album: No Grave But the Sea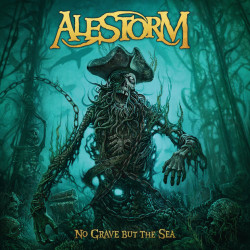 Album: No Grave But the Sea
Band:
Alestorm
Data di uscita: 2017
Etichetta:
Napalm Records
Genere:
Power
Nazione:
Recensione:
No Grave But the Sea
A 10 anni dal cambio di nome, da Battleheart ad Alestorm, e dalla firma del contratto con la Napalm Records i pirati Alestorm hanno tagliato il traguardo del quinto disco con "No Grave But the Sea". Prima di parlare di questo nuovo album bisogna capire con quali intenzioni gli scozzesi (ma...
Leggi tutta la recensione
Tracklist
01. No Grave But the Sea 3:30
02. Mexico 3:10
03. To the End of the World 6:43
04. Alestorm 3:56
05. Bar und Imbiss 4:11
06. Fucked with an Anchor 3:27
07. Pegleg Potion 3:54
08. Man the Pumps" 5:51
09. Rage of the Pentahook 3:07
10. Treasure Island 7:48

Durata complessiva 45:37 min.
Formazione
Christopher Bowes – Voce, keytar
Peter Alcorn – Batteria
Gareth Murdock – Basso
Máté Bodor – Chitarra
Elliot Vernon – Tastiere, voce