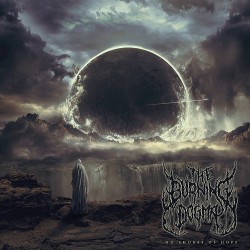 Album: No Shores Of Hope
Band:
The Burning Dogma
Data di uscita: 2016
Etichetta:
Sliptrick Records
Genere:
Death
Nazione:
Recensione:
No Shores Of Hope
Così, per dare a chi legge subito un'idea di cosa suonino i bolognesi The Burning Dogma, si potrebbero tirare fuori i Cradle Of Filth e il loro caleidoscopico, indefinibile metodo di accesso al black metal. Con la differenza, in primis, che qui, invece, si tratta di death metal. Ovvio, le differenze...
Leggi tutta la recensione
Tracklist
01. Waves Of Solitude 1:09
02. The Breach 5:22
03. Enigma Of The Unknown 1:11
04. Skies Of Grey 6:14
05. A Feast For Crows 6:08
06. Burning Times 5:22
07. Distant Echoes 2:10
08. No Shores Of Hope 4:33
09. Dying Sun 2:11
10. Nemesys 6:34
11. Dawn Yet To Come I (Drowning) 0:32
12. Dawn Yet To Come II (No Heroes' Dawn) 6:56
13. Dawn Yet To Come III (... e uscimmo a riveder le stelle) 1:26

Durata complessiva 50 min. ca.
Formazione
Andrea Montefiori - Voce
Maurizio Cremonini - Chitarra
Diego Luccarini - Chitarra
Simone Esperti - Basso
Antero Villaverde - Batteria
Giovanni Esposito - Tastiere