Album: Ominous Doctrines of the Perpetual Mystical Macrocosm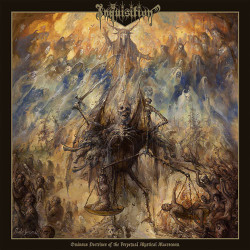 Album: Ominous Doctrines of the Perpetual Mystical Macrocosm
Band:
Inquisition
Data di uscita: 2015
Etichetta:
Season Of Mist
Genere:
Black
Nazione:
Recensione:
Ominous Doctrines Of The Perpetual Mystical Macrocosm
Gli Inquisition non dovrebbero, ormai, necessitare di alcuna presentazione. Il duo colombiano-americano, nato nel lontano 1988, si è infatti ormai conquistato il favore e il rispetto della scena black metal underground con una serie di album tendenzialmente ottimi. Nel 2002, grazie alla qualità...
Leggi tutta la recensione
Tracklist
01. Astral Path to Supreme Majesties
02. Command of the Dark Crown
03. Desolate Funeral Chant
04. Cosmic Invocation Rites
05. Conjuration
06. Upon the Fire Winged Demon
07. Ominous Doctrines of the Perpetual Mystical Macrocosm
08. Crepuscular Battle Hymn
09. Hymn for a Dead Star
10. Across the Abyss Ancient Horns Bray
Formazione
Dagon: guitars, vocals
Incubus: drums