Album: Pestilential Rites of Infernal Fornication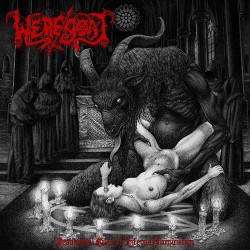 Album: Pestilential Rites of Infernal Fornication
Band:
Weregoat
Data di uscita: 2017
Etichetta:
Iron Bonehead Productions
Genere:
Death
Nazione:
Recensione:
Pestilential Rites of Infernal Fornication
Ognuno di noi, nell'abisso del proprio io, nasconde una stanza segreta, un luogo oscuro dove nascondere la vergogna primordiale che è parte di noi. La camera è chiusa da una porta massiccia la cui serratura non è altro che un enigma psichico ai limiti della risoluzione. Ma un bel...
Leggi tutta la recensione
Tracklist
01. Goatlust Invocation
02. Osculum Infame
03. Molested by Evil
04. Screaming Forth Endless Blasphemies and Emitting Foul Seed Upon the Pitiful Face of Benevolence
05. Forked Tongue Lashes Between the Virgins Thighs
06. At Full Moon She Bleeds
07. Under the Whip
08. Malediction Command
09. As Cold as the Devils Seed
10 . Pestilential Rites of Infernal Fornication
Formazione
Lecherous Agressor – Guitar Sodomy
Nocturnal Hellfukker – SubAtomic Detonations and Kommands of Bestial Penetration
SadoSeducer- Doomhammers of primal lust and hate!