Album: Realms of Eternal Decay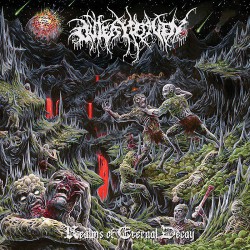 Album: Realms of Eternal Decay
Band:
Outer Heaven
Data di uscita: 2018
Etichetta:
Relapse Records
Genere:
Death
Nazione:
Recensione:
Realms of Eternal Decay
Dal 2013, anno di nascita degli Outer Heaven, dopo una discreta sequenza di demo, split, EP e single, è finalmente arrivato il momento tanto atteso del debut-album: "Realms of Eternal Decay". Un full-length che si mette in coda a una lunga colonna di lavori di natura death metal pesantemente influenzato...
Leggi tutta la recensione
Tracklist
01. Vortex of Thought 3:51
02. What Lies Beneath 2:05
03. Pulsating Swarm 3:49
04. Multicellular Savagery 3:36
05. Echoes from Beyond 2:53
06. Tortured Winds 2:04
07. Bloodspire 4:15
08. Sacrificial Evolution 3:35
09. Putrid Dwelling 2:29
10. Decaying Realms 4:37

Durata complessiva 33 min. ca.
Formazione
Austin Haines – Voce
Jon Kunz – Chitarra
Zak Carter – Chitarra
Raymond Figueroa – Basso
Paul Chrismer – Batteria