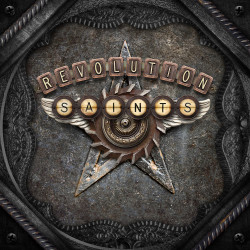 Album: Revolution Saints
Band:
Revolution Saints
Data di uscita: 2015
Etichetta:
Frontiers Records
Genere:
Hard Rock
Nazione:
Recensione:
Revolution Saints
Implicazioni ideologiche ed innovazione: questo è tutto quello che non troverete in "Revolution Saints". E sono aspetti che non abbiamo interesse di trovare in questo tipo di full-lenght, che è nato per darci una cosa a cui mai saremo assuefatti: bollente, ispirato melodic rock'n'roll....
Leggi tutta la recensione
Tracklist
01. Back On My Trail
02. Turn Back Time
03. You're Not Alone (feat. Arnel Pineda)
04. Locked Out Of Paradise
05. Way To The Sun (feat. Neal Schon)
06. Dream On
07. Don't Walk Away
08. Here Forever
09. Strangers To This Life
10. Better World
11. How To Mend A Broken Heart
12. In The Name Of The Father (Fernando's Song)
Formazione
Deen Castronovo - Voce, batteria
Jack Blades - Basso, voce in "Turn Back Time" and "Way To The Sun"
Doug Aldrich - Chitarra

Special guests:

Alessandro Del Vecchio - Tastiere, backing vocals, voce on "Way To The Sun"
Arnel Pineda - Voce in "You're Not Alone"
Neal Schon - Guitar solo on "Way To The Sun"