Album: Thank You Wacken (DVD)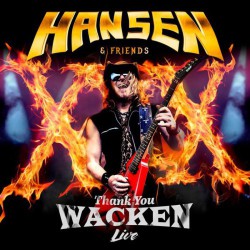 Album: Thank You Wacken (DVD)
Band:
Hansen & Friends
Data di uscita: 2017
Etichetta:
earMUSIC
Genere:
Power
Nazione:
Recensione:
Thank You Wacken (DVD)
Ammettiamolo, uncle Kai Hansen ne ha macinata di strada, a partire dalle prime band dai nomi improbabili (Gentry, Second Hell, Iron Fist), il periodo d'oro con gli Helloween negli anni Ottanta, i Gamma Ray, la collaborazione don l'amico Piet Sielck (Iron Savior), le comparsate (Blind Guardian,...
Leggi tutta la recensione
Tracklist
1. Born Free 04:30
2. Ride the Sky (Hellowen cover) 07:48
3. Contract Song 06:39
4. Victim of Fate (Hellowen cover) 07:07
5. Enemies of Fun 10:19
6. Fire and Ice 07:58
7. Burning Bridges 04:35
8. Follow the Sun 05:08
9. I Want Out (Hellowen cover) 05:48
10. Future World (Hellowen cover) 05:21
11. All or Nothing 05:55
12. Save Us (Hellowen cover) 05:30

Durata totale: 76:38 min.
Formazione
Kai Hansen – chitarra, voce
Michael Kiske - voce
Alex Dietz – basso
Eike Freese – chitarra
Michael Ehré – batteria
Corvin Bahn – tastiere
Clémentine Delauney – cori
Frank Beck – voce e cori