Album: The Eagle Has Landed 40 (Live)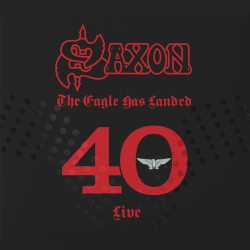 Album: The Eagle Has Landed 40 (Live)
Band:
Saxon
Data di uscita: 2019
Etichetta:
Silver Lining Music
Genere:
Heavy
Nazione:
Recensione:
The Eagle Has Landed 40 (Live)
Nel 1982 usciva The Eagle Has Landed, il primo live album dei guerrieri britannici Saxon. La band era lassù in cima, nell'Olimpo di quelli che contavano nell'heavy metal del periodo. Basti sapere che uno come Ozzy Osbourne faceva da supporter agli Stallions Of The Highway dello Yorkshire,...
Leggi tutta la recensione
Tracklist
CD1
1. State of Grace (Berlin 2007)
2. Red Star Falling (Berlin 2007)
3. Attila the Hun (Berlin 2007)
4. If I Was You (Sheffield 2007)
5. Witchfinder General (Berlin 2009)
6. Demon Sweeney Todd (Berlin 2009)
7. The Letter + Valley Of The Kings (London 2009)
8. Machine Gun (London 2009)
9. Live to Rock (Berlin 2009)
10. Hammer of the Gods (Berlin 2011)
11. Back in '79 (Berlin 2011)
12. I've Got to Rock (to Stay Alive) [Berlin 2011]
13. Call to Arms (Berlin 2011)
14. Rock 'n' Roll Gypsy (Berlin 2011)
15. Chasing the Bullet (Berlin 2011)
16. Play It Loud (Berlin 2011)

CD2
1. Sacrifice (BYH Balingen 2013)
2. Night of the Wolf (BYH Balingen 2013)
3. Conquistador + Drum Solo (BYH Balingen 2013)
4. Stand Up and Fight (BYH Balingen 2013)
5. Crusader (Wacken Open Air 2014)
6. Battalions of Steel (Wacken Open Air 2014)
7. The Eagle Has Landed (Wacken Open Air 2014)
8. Power and the Glory (Wacken Open Air 2014)
9. Dallas 1PM (Wacken Open Air 2014)
10. Princess of the Night (Wacken Open Air 2014)
11. Denim and Leather (Wacken Open Air 2014)

CD3
1. Eye of the Storm (Zoetemeer 2015)
2. 747 (Strangers in the Night) with Phil Campbell (Helsinki 2015)
3. Killing Ground (London 2016)
4. Ace of Spades with "Fast" Eddie Clarke (London 2016)
5. 20,000 FT. with Andy Sneap (San Antonio 2018)
6. Thunderbolt (San Antonio 2018)
7. Sons of Odin (Los Angeles 2018)
8. This Town Rocks (Los Angeles 2018)
9. Nosferatu (the Vampire's Waltz) [Manchester 2018]
10. Predator (Manchester 2018)
11. They Played Rock and Roll (Stockholm 2018)
12. The Secret of Flight (London 2018)
13. Battering Ram (London 2018)
Formazione
Paul Quinn Guitars
Biff Byford Vocals
Nigel Glockler Drums
Nibbs Carter Bass
Doug Scarratt Guitars