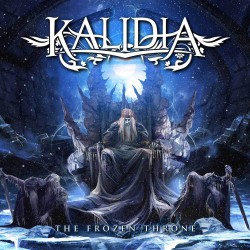 Album: The Frozen Throne
Band:
Kalidia
Data di uscita: 2018
Etichetta:
Inner Wound Recordings
Genere:
Power
Nazione:
Recensione:
The Frozen Throne
Negli ultimi anni la scena undeground di power melodico nel nostro paese gode di buona salute, grazie a giovani band che profondono enorme impegno e dedizione, calcando i palchi in apertura dei mostri sacri del genere ed acquisendo nel tempo l'esperienza che forse, un giorno, li porterà ad...
Leggi tutta la recensione
Tracklist
01. Frozen Throne
02. Circe's Spell
03. Black Sails
04. Orpheus
05. To The Darkness I Belong
06. Myth Of Masada
07. Midnight's Chant
08. Go Beyond
09. Amethyst
10. Lotus
11. Queen Of The Forsaken
Formazione
Nicoletta Rosellini - vocals
Federico Paolini - guitars
Roberto Donati - bass
Dario Gozzi - drums

Special guests:
David Bassin - additional vocals on "Myth of Masada"
Gabriele Boschi - violin on "To The Darkness I Belong"