Album: The Night of Nights - Live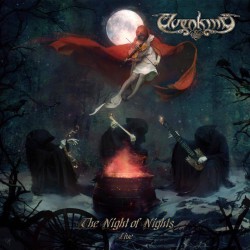 Album: The Night of Nights - Live
Band:
Elvenking
Data di uscita: 2015
Etichetta:
AFM Records
Genere:
Power
Nazione:
Recensione:
The Night of Nights - Live
  Un sibilo   Un sibilo rivitalizza molecole che ora danzano ad animare la notte immota.  E' tempo di inseguire quel richiamo? Di certo non è possibile ignorarlo.  Come in fondo non avrei potuto ignorare la mia stessa essenza. Accarezzo la notte stellata. In viaggio...
Leggi tutta la recensione
Tracklist
CD 1

01. The Manifesto - intermezzo
02. Trows Kind "The Winter Wake" 2006
03. The Wanderer "The Winter Wake" 2006
04. Runereader "Red Silent Tides" 2010
05. Pagan Revolution "The Pagan Manifesto" 2014
06. She Lives At Dawn "Two Tragedy Poets (…and A Caravan Figures)" 2008
07. Jigsaw Puzzle "Wyrd" 2004
08. Elvenlegions "The Pagan Manifesto" 2014
09. The Cabal "Red Silent Tides" 2010
10. A Prayer To Cernunnos - intermezzo
11. Moonbeam Stone Circle "The Pagan Manifesto" 2014
12. Symohn's Bash (assolo batteria)
13. From Blood To Stone "Two Tragedy Poets (…and A Caravan Figures)" 2008
14. Skywards - "Heathenreel" - 2001
15. Disillusion's Reel - "The Winter Wake" 2006

CD 2

01. Elven Aftermath - (medley)
02. Seasonspeech - "Heathenreel" - 2001



03. Through Wolf's Eyes – "Era" - 2012
04. The Divided Heart – "The Schyte" - 2007
05. Neverending Nights – "The Winter Wake" 2006
06. The Winter Wake – "The Winter Wake" 2006
07. Era Theme
08. The Loser – "Era" - 2012
09. The Oak Woods Bestowed – "The Oak Woods of Bestowed" - 2000
10. Pagan Purity – "Heathenreel" - 2001
Formazione
voce: Damna
chitarra: Aydan
chitarra: Rafahel
violino: Lethien
basso: Jakob
batteria: Symohn