Album: The Pursuit Of Vikings (25 Years In The Eye Of The Storm) [DVD]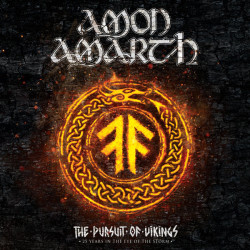 Album: The Pursuit Of Vikings (25 Years In The Eye Of The Storm) [DVD]
Band:
Amon Amarth
Data di uscita: 2018
Etichetta:
Metal Blade Records
Genere:
Death
Nazione:
Recensione:
The Pursuit of Vikings (25 Years In The Eye Of The Storm) [DVD]
Sul nostro portale c'è un bellissimo articolo dedicato a quanto sia speciale l'aspetto emotivo della musica metal per ognuno di noi. Se navigate in queste acque, siete consapevoli che non si tratti di rumore – come molti lo definiscono – ma nemmeno di semplice musica. A prescindere...
Leggi tutta la recensione
Tracklist
Disc 1 (Blu-ray)
1. Warriors of the North 02:22
2. Dawn's First Light 02:42
3. First Kill 09:43
4. Valkyries Ride 06:43
5. Viking Hearts 08:45
6. Versus the World 07:47
7. Runes to a Memory 11:05
8. The Viking Way 14:28
9. Riffs of the Blackbirds 22:49
10. A Dream That Could Actually Be 11:15
11. Coming of the Tide 04:35
12. The Pursuit of Vikings 06:28
13. As Loke Falls 05:47
14. First Kill 04:30
15. The Way of Vikings 05:18
16. At Dawn's First Light 03:47
17. Cry of the Black Birds 04:40
18. Deceiver of the Gods 05:56
19. Destroyer of the Universe 05:01
20. Death in Fire 05:10
21. Father of the Wolf 05:51
22. Runes to My Memory 04:36
23. War of the Gods 05:56
24. Raise Your Horns 05:17
25. A Dream That Cannot Be 04:57
26. Guardians of Asgaard 04:54
27. Twilight of the Thunder God 10:13

Disc 2 (CD)
1. The Pursuit of Vikings 06:19
2. As Loke Falls 04:23
3. First Kill 04:28
4. The Way of Vikings 05:18
5. At Dawn's First Light 03:44
6. Cry of the Blackbirds 04:42
7. Deceiver of the Gods 04:13
8. Destroyer of the Universe 03:42
9. Death in Fire 05:03
10. Father of the Wolf 05:35
11. Runes to My Memory 04:44
12. War of the Gods 04:45
13. Raise Your Horns 04:34
14. A Dream That Cannot Be 04:32
15. Guardians of Asgaard 04:43
16. Twilight of the Thunder God 06:51
Formazione
Johan Hegg - Vocals
Olavi Mikkonen - Guitars
Johan Söderberg - Guitars
Ted Lundström - Bass
Jocke Wallgren - Drums