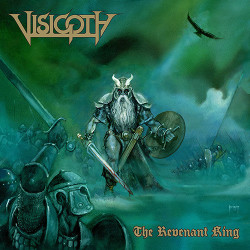 Album: The Revenant King
Band:
Visigoth
Data di uscita: 2015
Etichetta:
Metal Blade Records
Genere:
Heavy
Nazione:
Recensione:
The Revenant King
Il mondo legato all'heavy metal da sempre mostra i muscoli sulla base di chitarre sferraglianti, bassi a mo' di  bulldozer e batterie terremotanti. Un coacervo di carichi da novanta solitamente accompagnato a ugole d'acciaio in modalità bollocks off. I promotori di cotante...
Leggi tutta la recensione
Tracklist
1. The Revenant King
2. Dungeon Master
3. Mammoth Rider
4. Blood Sacrifice
5. Iron Brotherhood
6. Necropolis (Manilla Road cover)
7. Vengeance
8. Creature of Desire
9. From The Arcane Mists of Prophecy
Formazione
Jake Rogers - Vocals
Leeland Campana - Lead Guitar
Jamison Palmer - Guitar
Matt Brotherton - Bass Guitar
Mikey T. - Drums