Album: Visions of Eden [Re-Release 2017]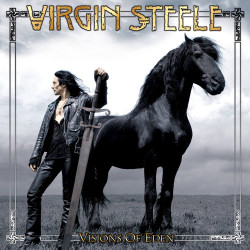 Album: Visions of Eden [Re-Release 2017]
Band:
Virgin Steele
Data di uscita: 2017
Etichetta:
spv
Genere:
Heavy
Nazione:
Recensione:
Visions of Eden [Re-Release 2017]
Ennesima ristampa da parte della premiata ditta DeFeis&Co. Quest'anno è la volta di Visions of Eden, sempre marchiata Spv che succede nel tempo ai vari Noble Savage, Life Among the Ruins, Marriage I & II, Age of Consent,  Invictus, House of Atreus I & II. A differenza di alcune...
Leggi tutta la recensione
Tracklist
CD 1: Barbaric Remix version Tracklist:

1) Immortal I Stand (The Birth Of Adam)
2) Adorned With The Rising Cobra
3) The Ineffable Name
4) Black Light On Black
5) Bonedust
6) Angel Of Death
7) God Above God
8) The Hidden God
9) Childslayer
10) When Dusk Fell
11) Visions Of Eden

CD 2: Romantic Re-Mastered Tracklist:

1) Immortal I Stand (The Birth Of Adam)
2) Adorned With The Rising Cobra
3) The Ineffable Name
4) Black Light On Black
5) Bonedust
6) Angel Of Death
7) God Above God
8) The Hidden God
9) Childslayer
10) When Dusk Fell
11) Visions Of Eden
Formazione
David DeFeis - Vocals, Keyboards
Edward Pursino - Guitar
Frank Gilchriest - Drums
Joshua Block - Bass