Puoi leggere l'intervista in italiano nella prima pagina
On the occasion of the gig in Manchester of the tour that celebrates the 10th anniversary of "Somewhere Along the Highway", album that will be played in full on every gig of this tour, we met Johannes Persson, singer and guitarist of the Post-Metal legends Cult of Luna.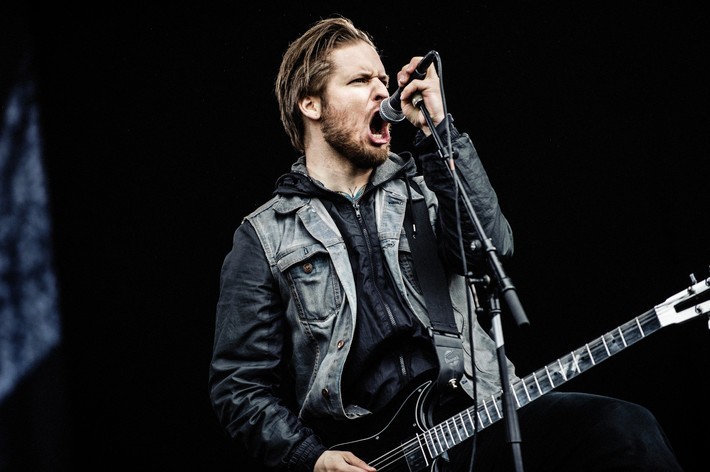 You released "Mariner" two days ago, but instead of a traditional tour to promote the new album you're on tour for the 10th anniversary of "Somewhere Along the Highway" playing the album in its entirety, why?
Well, we knew from the beginning that this was going to be a non-touring album and this tour is just a coincidence.
I think that maybe the record company pushed the release like two weeks or something like that so that it would be released the same day we started the tour.
It was actually our agent who came out with the idea of this tour, I wasn't a big fan of it personally, but I love when a band I like do it; he convinced us to take the fan perspective, and I'm really glad he did because I enjoy playing those songs again.
Why are you playing all Somewhere right now, when many bands wait for later anniversaries like the 20th or the 25th?
As I was saying it wasn't an idea of ours, so it wasn't really an option [laughs]
Going back to "Mariner", is there a concept behind it?
Yeah, we've known for quite a while where we wanted to go, what we wanted to inspire us; I'm a big fan of limiting your creative output because it forces you to take decisions that otherwise you wouldn't be taking.
When we went from the rural backdrop of "Somewhere Along the Highway" to the city we did "Vertikal", because that's where we were heading after.
 We were kind of teasing where we wanted to go on that album ["Mariner"] too, it was about looking out to the space, the beauty of the vastness of the space and also with "Vertikal 2" which artwork was pretty much inspired by…when you're in the city you at night you see the spotlights, the clouds…the artwork is pretty much inspired by that.
We knew already that we were going to be inspired by that make-believe story about space travelling, but it's also about daring to go to places where you haven't been before, that could be like in you personal life when you take decisions that are not safe…that's pretty much the concept of the whole thing.
Is "Mariner" a kind of separate album in your discography, or is it the beginning of a new way for Cult of Luna?
We don't think like that, it's just something we did, we don't have these thoughts behind it.
We wrote it and where people wants to place it it's up to them, I don't care really.
It's an album that we wrote with Julie, it's not much more complicated than that, it's the same band with the addition of another vocalist basically.
Who had the idea of working with Julie Christmas and how did this collaboration started?
I've been a big fan of Julie for years: Made Out of Babies and Battle of Mice, but the thing that really caught my attention was her solo album, "The Bad Wife", which I listened to on repeat for two years.
When we had the possibility to curate a whole festival, the Beyond the Redshift Festival, I really wanted her to play but the problem was that she couldn't, so I asked for her email and we started to communicate, I tried to convince her but she really couldn't, it wasn't possible.
We started talking and we and Julie weren't going to tour much in the future, and we aren't, but we still wanted to write music and I came up with this.
So I told her "ok, we are not going to tour but we want to write an album, are you up for it?" and we tried one song first and when we listened to the finished thing we were quite excited about it and…now we're sitting here with the album out.
Have you thought about working with her again, or with some other bands?
No, no plans of anything.
There are tons of artists out there who we could work with, but there are no plans.
For me personally there are tons of people that I would like to work with, one vocalist I really admire is  Gaahl, you know, but I have no plans right now.
You come from Umeå which, from my understanding, is a rather small and isolated town, do you think that it influenced your music?
It must have, but it's hard for me to answer to this kind of questions…I grew up there, obviously it influenced me somehow, but maybe you could tell me that because you can have an outside perspective.
Our sound…we just write, there nothing more behind it, we just write and whatever comes out comes out and whatever inspires us, maybe it's not that obvious, our hometown probably inspires us but it's subconscious.
You have two drummers, something quite unique, why do you feel this need? And how did you had the idea in first place?
I don't remember to be honest.
What I do remember is that for a while we only had two drummers on special occasions; after "Vertikal" we decided that we were going to have them both on every single show.
I don't remember how it started, I don't even remember the first show with them.
To be honest I can't remember it.
Two years ago Erik Olofsson left the band, but you said "he's still part of the Cult of Luna universe", can you explain that to me?
We're still friends and we hang out with him all the time…
So is it just on a personal level?
No no, he designs all the merch you see, he designs all the re-releases, I designed the artwork for "Mariner", he knows the band more than anyone does, in that sense he's part of how our music is presented.
Two years ago you announced you were taking a break, but then went on with your usual timing, what happened?
I don't think I did that, I don't remember what words I used, but what I wanted to say, maybe I used the wrong words, is that we didn't have anything planned for the future and I'm telling you now: we don't have anything planned for the future.
But then we might have an idea and..."let's do this!".
So, after this tour we have four shows in Scandinavia and after that we don't have anything planned: it might take 10 years for us to do something, it might take one, I honestly don't know.
So your words were misinterpreted?
Maybe the fault was mine, I don't remember, but for sure I never used the word hiatus.
I thought we were taking some time…you know, this is not our job, we do it for fun, so when we want to do something we do it, that's how we've always done it.
You're often credited as one of the band which created Post-Metal, do you feel like you created, in your own way, a new genre? And what is Post-Metal to you?
[laughs] Well, that's a genre that people applied to us, we just write: of course we have a defined style, but labels are more of yours job than mine. [laughs]
You know, a couple years after we started playing and touring there was a kind of avalanche, there was a lot of bands that bought delay pedals [laughs]
We have influenced a lot of people, and hopefully they'll go on doing great things, but I can't look at us as people who create a whole new genre…maybe we did but it's so unbelievable that someone even like what we do, we're still amazed that we can play in cities in other part of the country, or in other countries or in other continents and people would show up, that's insane!
We're very thankful for it.
Interview by Davide Sciaky