Max Marzocca, storico batterista noto per la lunga militanza negli storici death metallers di origine barese Natron, è una persona che non si da' mai per vinta: nonostante la sua storica death metal band, ha recuperato ben due fidi componenti della sua band originaria per mettere in piedi una nuova formazione dal background del tutto differente. Il risultato sono i The Ossuary, il cui disco di debutto "Post Mortem Blues" è uscito lo scorso anno per Supreme Chaos Records (qui la recensione) e che, per il sottoscritto, è stato il disco dell'anno (essendo un buon malato di Doom, Stoner/Sludge e tutto ciò che ha come comune denominatore i Black Sabbath, non sarebbe potuto essere altrimenti).
Eccoci quindi a contatto con il buon Max, qui voce della band al completo oltre che testimone degli albori del death metal italiano e della prima scena estrema tricolore in senso ampio: a lui la parola, quindi.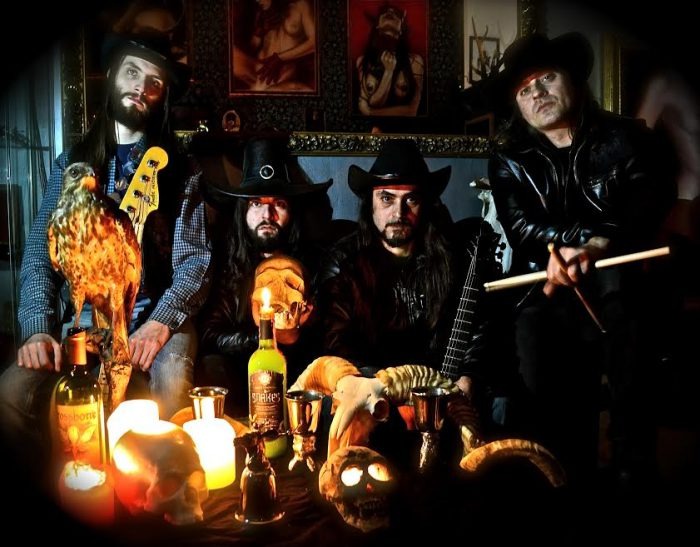 Benvenuti nel magico e catacombale mondo dei The Ossuary...
Ciao Max, benvenuto sulle pagine di TrueMetal.it!
Ciao Giuseppe, grazie a voi di TrueMetal!

Hai ben 25 anni di storia alle spalle se non erro, iniziati in quella che non a torto è considerata una delle realtà capostipiti del Death Metal italiano, vale a dire i Natron. Ci puoi raccontare qualcosa di quelli anni magici, che son sicuro ricorderai con innata nostalgia?
A dire la verita' avevo cominciato qualche anno prima cercando di cantare in una band hard rock locale e di imparare a suonare il basso con scarsi risultati ma nel frattempo tra la fine degli anni 80 e gli inizi dei 90 avevo iniziato a suonare la batteria, e dopo svariati tentativi fu proprio il batterista di quella band (non chiedermi il nome perche' ne cambiavano uno ogni settimana quindi non so dirti in quel momento come si chiamavano) a mettermi di fronte alla triste realta': "Secondo me fai davvero schifo col basso, meglio che suoni la batteria!". E cosi' di li' a poco nel Maggio del 1992 formai i Natron (nei primi mesi di vita la band si chiamava Piper of Hamelin, un nome poco death metal a dire la verita' ma che tradiva la mia passione per i Jethro Tull). Ascoltavo un sacco di roba diversa ma ero attratto dalla roba piu' pesante perche' in quel periodo death metal e grind core erano all'apice della popolarita' e l'underground pullulava di fanzine e band dedite al genere. Oltretutto ero un cultore di tutta la filmografia di Fulci, Argento, Romero e dell'horror 70/80 per cui formare una death metal band fu molto naturale per me, era la giusta occasione per sfogare la mia creativita', la mia passione per quel tipo di musica e per esternare alla societa' il mio senso di ribellione ed anticonformismo. La band mi teneva impegnato in maniera costruttiva ed era la mia unica valvola di sfogo contro la frustrazione di vivere in quegli anni in una realta' difficile come quella della provincia Barese. Quando misi insieme i pezzi della prima line up della band il mio unico obiettivo era fare quanti piu' concerti possibili, registrare una demo e scambiarla in giro con altre band dello stesso genere. Il nostro primo concerto si tenne qualche mese dopo  nel centro sociale "Ragnatela" di Napoli, dove il collettivo del c.s.a. "Tien A Ment" aveva occupato il parcheggio sotterraneo degli autobus dello stadio San Paolo. Fummo pagati con una porzione di pollo, funghi  e bambu' dal ristorante cinese ed una cassa di birra. Nel 1992 in Italia a suonare death metal eravamo in pochi. C'erano Sadist, Electrocution, Horrid, Undertakers, Detestor, Enthralment, Agonia, Cenotaph, Gory Blister, Genital Grinder, e qualche altro nome. Poi c'erano altre band come Funeral Oration, Opera IX, Mortuary Drape, Necromass ma questi suonavano black metal. Ad ogni modo ogni band aveva la propria identita' e ognuno suonava in maniera diversa, pur rifacendosi a qualche band straniera. Noi ed Agonia fummo i primi a suonare una sorta di US brutal death metal, loro erano piu' "Cannibal" noi piu' "Suffocation". Ti sentivi parte di una scena enorme che superava i confini nazionali grazie al tapetrading e ai concerti, la mia cassetta delle lettere esplodeva di pacchettini e lettere da ogni parte del mondo ed era tutto molto esaltante. Dopo il primo demo del '94 fummo contattati per produrre il primo disco ufficiale ma le cose con l'etichetta non finirono bene e quindi dovemmo attendere 3 anni prima di vedere pubblicato il nostro debutto "Hung, Drawn and Quartered". Il disco in questione fu registrato nel 1996 ed era il mini album "Unpure" pubblicato poi nel 2000, dopo che la band aveva gia' 3 album,  altrettanti tour europei alle spalle e si era gia' fatta un nome.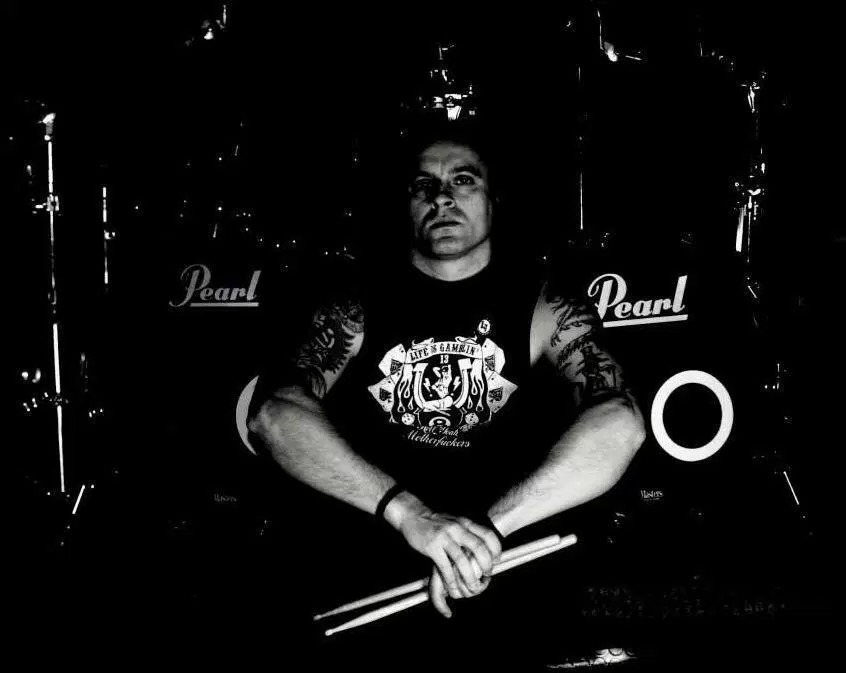 Max Marzocca (Photo Session)

Bene, oggi ti riscopriamo come un vero appassionato del Doom Metal e di tutto ciò che ruota attorno ai Black Sabbath & dintorni:  è un viaggio a ritroso se vogliamo definirlo tale, una specie di ritorno alle origini dell' Hard & Heavy. Era un qualcosa che coltivavi già al periodo dei Natron oppure un qualcosa nato pian piano con gli anni?
Quello che suono oggi con The Ossuary e' la musica con cui sono cresciuto. Tra i primi dischi heavy rock in assoluto che ho ascoltato nei primi anni 80 ci sono "Volume 4" dei Sabbath e "Very 'eavy, very 'umble" degli Uriah Heep, per farti un esempio. Da ragazzino ho acquistato vinili di Black Sabbath, AC/DC, Deep Purple, Led Zeppelin, Lynyrd Skynyrd, Budgie, Rainbow, Ten Years After, ELP, Jethro Tull, Yes, Genesis, Thin Lizzy, Rush, Blue Cheer, Alice Cooper, Free, Aerosmith, New York Dolls, Blue Oyster Cult , Stooges  e sono vissuto un periodo in cui Maiden, Priest, Saxon, Motorhead , Mercyful Fate, Venom erano al top della loro carriera e band relativamente piu' giovani ma in prepotente ascesa come Metallica, Slayer ed Anthrax si rifacevano a quei grandi del passato. In seguito presi anche dischi di classic punk di Exploited, Misfits, GBH, Minor Threat, e poi di band come Screaming Trees, Soundgarden, Mudhoney, Faith No More prima dell'esplosione del  grunge e del crossover metal. Davvero ho ascoltato tanta roba molto diversa dal death metal. Le mie origini sono li', nel classic rock e nell' heavy metal tradizionale, non e' niente di nuovo per me. In passato ho collaborato con i That's All, Folks, storica hard psych band italiana registrando un demo di 8 brani ed un 7"EP, ho suonato dal vivo per alcuni anni in un trio power blues di nome Trinity, 10 anni fa ho formato un progetto di heavy rock con degli amici chiamato Southborn con i quali abbiamo suonato un po' in giro e registrato delle demo non ufficiali. Ho sempre voluto avere una band dove far confluire tutti i miei ascolti e la mia passione per l'heavy rock 70, il prog rock, il doom. Ad un certo punto a meta' degli anni '80  gran parte delle band o suonava thrash metal o il cosidetto glam - hair metal, chiunque era nel mezzo era destinato a finire nel dimenticatoio e nel mezzo c'erano le band della morente NWOBHM come Angel Witch, Witchfinder General, Diamond Head e band americane  come Pentagram, Saint Vitus e Trouble che portavano avanti uno stile oscuro figlio diretto di quelle grandi band hard degli anni 70 ma considerato troppo retro' per l'epoca. Ecco, noi in parte ci rifacciamo a quella scena li', prendiamo spunto da quel modo di concepire il rock e lo portiamo avanti in maniera piu' personale. 

…ed eccoci a parlare della tua nuova creatura, i The Ossuary! Creatura con cui, escludendo il vostro vocalist, condividi altri due componenti dei Natron rispettivamente al basso e alla chitarra. Come è stato per voi tutti il ritrovarsi dal pestare duro & veloce fino al colpire lento & pesante? Voglio dire, il sound dei The Ossuary si rifà spudoratamente ad una 'violenza sonora' che non va oltre i 130 battiti al minuto, al contrario dei blast beat che oggi, nel Death Metal, si fanno via via sempre più estremi , perdendo a mio parere il senso della violenza pura e dura del Death Metal annegandola nell'esibizionismo sterile. Tutto ciò ovviamente non è da intendersi rivolto a te come batterista, quanto piuttosto a quello che sento come semplice ascoltatore ed appassionato oggi tra i batteristi all'opera nella maggior parte degli act Death Metal che vanno in giro…io sono solo un pessimo bassista che si è riadattato ad ancor più pessimo chitarrista!
Come ti ho detto sopra, non siamo nuovi in quello che suoniamo con The Ossuary. Ognuno di noi ha fatto esperienze extra-Natron, Dario tra le altre cose e' il bassista dei Backjumper che fanno una sorta di crossover metal e Domenico suonava con me nel progetto Southborn. L'approcio allo strumento e' sempre lo stesso, magari un po' piu' rilassato e piu' groovy anche quando si tratta comunque di pestare. Non siamo una band prettamente doom con parti ultraslow, ci piace diversificare la proposta proponendo dei brani anche piu' "tirati".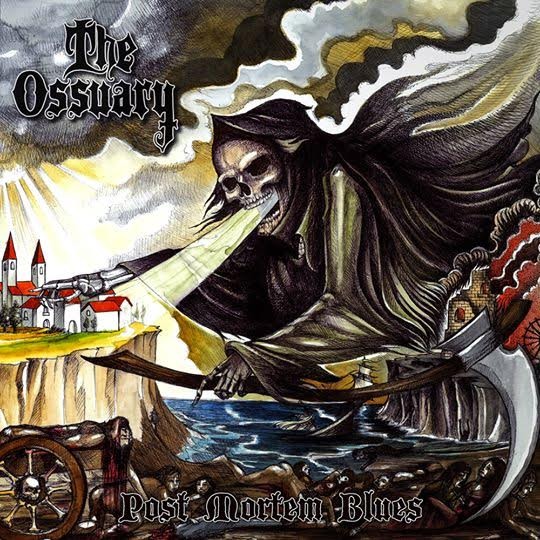 La copertina di "Post Mortem Blues".
Parlando di ritmi e batteria…ok, devi sapere che io sono un batterista frustrato quindi di solito è l'aspetto ritmico (e di conseguenza il groove generale) su cui pongo maggiore attenzione quando ascolto un disco ahahahah! Le tue parti di batteria in "Post Mortem Blues" mi sembrano altamente fuori dall'ordinario del Doom Metal ed è un bene, senza dimenticare i numerosi tempi dispari inseriti lungo i brano, frutto suppongo di una certa influenza Progressive d'annata se non erro. Parlaci di più di questo aspetto, delle tue influenze messe sul piatto non solo al cospetto del sound dei The Ossuary, quanto al tuo operato proprio come batterista in genere. Spero di non averti posto una domanda troppo impegnativa!
In definitiva vuoi sapere quali sono le mie influenze? Rischi l'ammorbamento con un elenco di decine e decine di batteristi ma cerchero' di essere sintetico. Per anni ho ascoltato John Bonham, Ian Paice, Bill Ward, Nicko Mc Brain, Clive Burr, Tommy Lee, Steve Copeland (The Police), Tim Alexander, Matt Cameron, Dave Lombardo, Gene Hoglan, Mikky Dee, Mike Smith. Mettevo su i dischi e cercavo di andargli dietro. Oggi ci sono un sacco di batteristi che apprezzo ma in generale mi faccio prendere da quelli che suonano nelle mie band preferite. Hai citato il prog rock e quindi colgo l'occasione per citarti i miei preferiti: Barriemore Barlow e Clive Bunker (Jethro Tull), Carl Palmer, Phil Collins specialmente su "Selling England by the Pound" e ovviamente Neil Peart. Cito anche  Billy Cobham e Buddy Rich in ambito fusion e jazz, e Phil Rudd e Jeff Porcaro, maestri del groove rock. Ma davvero ce ne sono tanti, questi sono quelli che mi sono venuti in mente  su due piedi. Ora non so se tutte sti ascolti si sentono nel mio modo di suonare ma ti posso dire che questi batteristi sono il mio riferimento. 
La produzione di "Post Mortem Blues" è sì carica e moderna, ma ha comunque al suo interno un certo fascino vintage che pone il disco a metà tra i Sabbath che furono e i The Ossuary di oggi: avete seguito personalmente l'aspetto produttivo del disco oppure si tratta di una efficace casualità?
"Post Mortem Blues" suona come dici perche' il songwriting si rifa' chiaramente al rock anni 70 ed 80. La produzione magari no, ma e' pulita e ben definita grazie alle riprese digitali live in studio su tracce separate, utilizzando degli ottimi microfoni. Abbiamo prima registrato insieme batteria, basso e prima linea di chitarra e poi aggiunto la seconda chitarra, i soli e le voci solo in seguito ma la "pasta sonora" rimane quella di un live in studio. Di ogni brano abbiamo suonato 2 o 3 take e poi abbiamo scelto la migliore. Sicuramente ci sarebbe piaciuto disporre di un mixer 36 canali e di un sistema di ripresa analogico come si faceva una volta (cioe' ad esempio i dischi dei Natron agli Abyss Studio in Svezia) ma oltre ad essere oggi molto dispendioso trovo che sia piu' semplice questa soluzione e che tutto il disco suoni reale ed abbia il suono della band quando suona in sala prove o dal vivo.
"Post Mortem Blues" in streaming integrale su Bandcamp.
Soffermandoci sull'aspetto lirico, direi che su questo aspetto siamo rimasti su coordinate decisamente classiche: si parla di stregoneria, superstizioni, Magia Nera e…soprattutto, di cosa parla il testo di 'Graves Underwater'? Sai, è curioso ed affascinante sentirsi citare delle tombe poste nelle profondità dell'abisso marino…
La stregoneria e la superstizione in realta' sono piu' raccontate come fatti di cronaca, almeno in questo disco. I testi in generale prendono spunto dalla storia ed il folklore del Sud Italia con un particolare riferimento al medioevo  e al periodo della diffusione della Peste Nera in Europa attraverso le nostre terre, periodo in cui il concetto di sepultura assume un significato diverso per l'umanita' e che vede la diffusione di ossari e lazzareti su tutto il territorio. "Graves Underwater" nello specifico si riferisce alla "Chiesa Della Morte" sita nel centro storico di Molfetta in provincia di Bari. Durante la Peste i cadaveri dei poveri abbandonati lungo le strade cominciarono ad essere ammassati dall' "Arciconfraternita della Morte", una congrega di laici che mossa a pieta' si fece carico di dare una degna sepoltura a tali corpi. I resti mortali degli appestati venivano portati in questa sorta di cimitero sul mare e calati giu' in dei pozzi per permettere alla salsedine di deidratare i corpi e consumare i tessuti fino alle ossa. Dopodiche' le ossa venivano raccolte ed infilate in un altro pozzo abbastanza profondo da permettere all' acqua  di trascinarle via con se in fondo al mare. Ho visitato questa chiesa ed il custode mi ha  raccontato nei minimi dettagli come avveniva questo singolare processo di sepoltura. Ovviamente la cosa  mi ha immediatamente affascinato al punto di scriverne un testo. Piccola curiosita' dei nostri tempi: mio nonno materno – morto ultracentenario (pace all'anima sua!) - era un falegname e fu nominato priore  dell' "Arciconfraternita della Morte" e nella chiesa ho persino scoperto un altarino in legno creato da lui  e donato alla confraternita. Da bambino il mio caro nonno mi iscrisse alla confraternita facendomi partecipare a tutte le processioni della settimana santa. Quindi per un certo periodo della mia vita in quella settimana i miei mi portavano da Giovinazzo dove vivevo a Molfetta, vestito con cappuccio e saio nero, ossa e tibie incrociate sul petto, e seguivo la processione per kilometri portando la cassettina della questua. Questo ha fatto di me tutt'altro che un fervente cristiano ma di sicuro ossa, teschi, candele e drappi neri hanno avuto una grossa influenza su quello che poi avrei fatto da grande, ispirando la mia fantasia e facendomi appassionare alla storia, il culto della morte ed il lato oscuro delle cose.
Il video ufficiale di 'Post Mortem Blues'
Vi ho potuto ammirare solo una volta dal vivo, durante la terza edizione del Breaking Sound Metal Fest (qui il Live Report), dove non ho potuto che notare un approccio molto 'fisico' alla materia live: pare quasi che più che solamente esibirvi dal vivo, vogliate celebrare alla grande il periodo a cui fate riferimento.Sbaglio se suppongo che la passione verso quel periodo è, appunto, un qualcosa che pare accomunare tutti i componenti?
Siamo tutti maledettamente nostalgici. La nostra passione per certe sonorita' e' genuina ma di sicuro non stiamo cavalcando l'onda del revival. Trovo abbastanza sterile scimmiottare cio' che altre band hanno fatto in passato. Il DNA e' quello ma poi il nostro sound si evolve verso qualcos'altro di piu' personale. Almeno spero sia cosi'.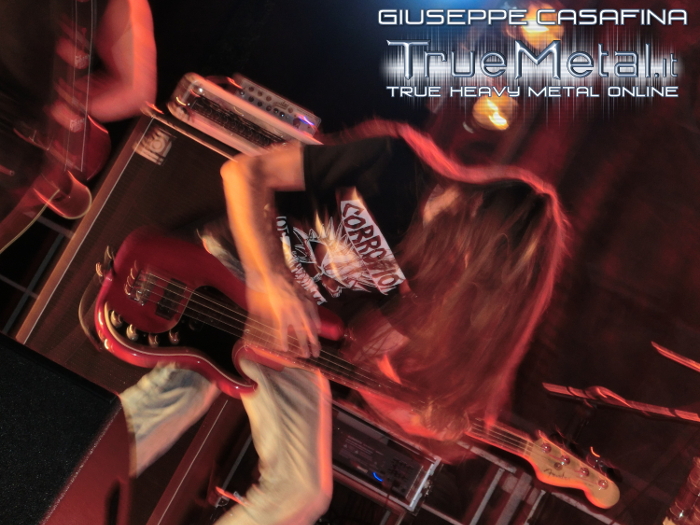 Una scatto tratto dall'esibizione dei The Ossuary al Breaking Sound Metal Fest III: lo scapocciante Dario "Captain" De Falco!
Alcuni pettegolezzi parlano del vostro ritorno alla composizione di nuovi brani. Ci puoi già dire qualcosa? La linea sarà sempre quella dettata dal vostro disco di debutto oppure ci saranno elementi nuovi, magari nuovi accenti su aspetti differenti…sì, cosa? Il minestrone The Ossuary sarà ancora più ricco e saporito?
In questo momento non abbiamo molti concerti da fare per cui abbiamo approfittato a scrivere il del materiale nuovo, la formula e' piu' o meno quella di "Post Mortem Blues" con delle variazioni sul tema. Pur volendo non saremmo mai in grado di scrivere un album uguale al precedente, l'unica cosa a cui badiamo e' se un brano ci convince completamente indipendentemente dalla struttura, arrangiamenti ed eventuali innovazioni. Fortunatamente abbiamo un po' di brani e di sicuro selezioneremo il meglio nell'eventualita' si decida di incidere un nuovo disco a breve.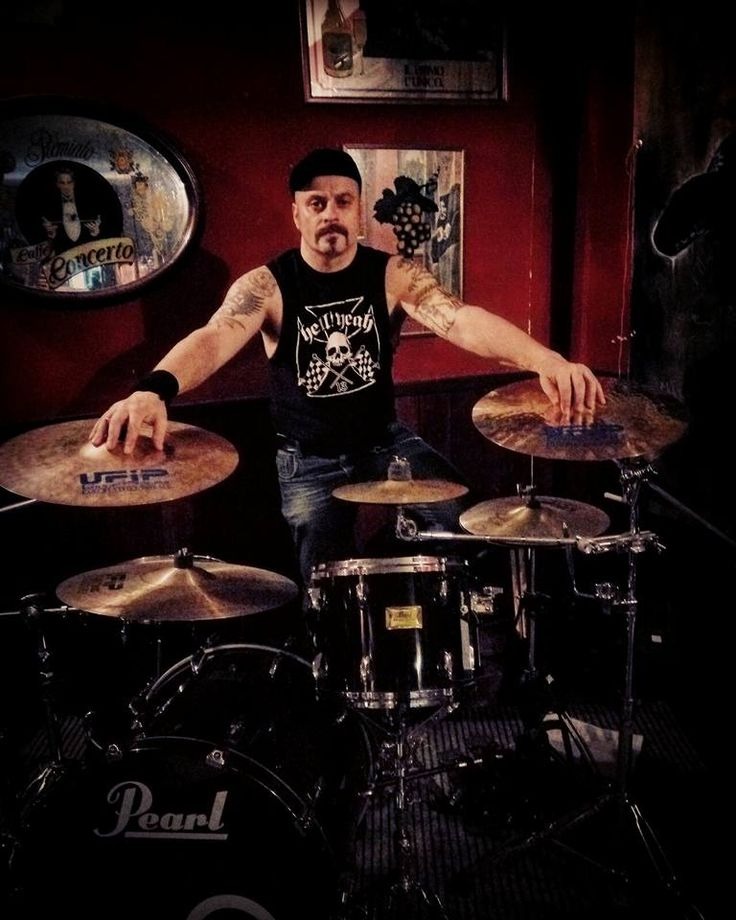 Max Marzocca alle prese con il suo 'giocattolo' preferito: la batteria!
Come ultima domanda prima dei saluti finali di rito, supponiamo che tu possa sdoppiarti (!): cosa credi che possa imparare il Max Marzocca death metaller dal Max Marzocca devoto alla causa delle vecchie sonorità fumose che furono?
Credo che possa imparare a scrivere brani migliori, testi migliori e ad arrangiare parti di batteria piu' funzionali alla musica che devote al semplice esercizio di stile.
E' stato un vero piacere Max, grazie del tempo concessoci. 
Piacere mio Giuseppe, di nuovo grazie per il supporto: procuratevi "Post Mortem Blues" e veniteci a vedere dal vivo, see you around!