Parlophone Records (BMG negli Stati Uniti) continua la serie di ristampe del catalogo Iron Maiden con "The Studio Collection - Remastered", coprendo i sedici studio-album prodotti dalla band su CD. A seguito delle versioni in vinile nero 2014/2017 e del progetto "Mastered for iTunes 2015", "The Studio Collection - Remastered" sarà pubblicato nel formato CD Digipak, con l'elenco delle tracce corrispondente alle versioni originali edite nel Regno Unito. Le registrazioni sono tratte dalla medesima rimasterizzazione delle release digitali ad alta risoluzione del 2015. Gli album saranno pubblicati cronologicamente in gruppi di quattro, per un periodo di nove mesi, sostituendo il catalogo dello studio precedentemente disponibile, con tutti i titoli che saranno resi disponibili anche su piattaforme digitali. Come bonus per i collezionisti, un CD di ogni serie sarà anche disponibile in un box appositamente disegnato con una miniatura in scala 1:24 e una patch esclusiva. Nella prima uscita del prossimo 16 novembre, il CD in questione sarà "The Number of the Beast".
Il membro fondatore e bassista degli Iron Maiden, Steve Harris, ha dichiarato:
Volevamo rivitalizzare tutti i nostri album e sono rimasto molto contento della rimasterizzazione che abbiamo fatto nel 2015. Ho pensato che la resa fosse la migliore che i nostri album abbiano mai avuto e quindo era giusto che fossero stampati anche su CD.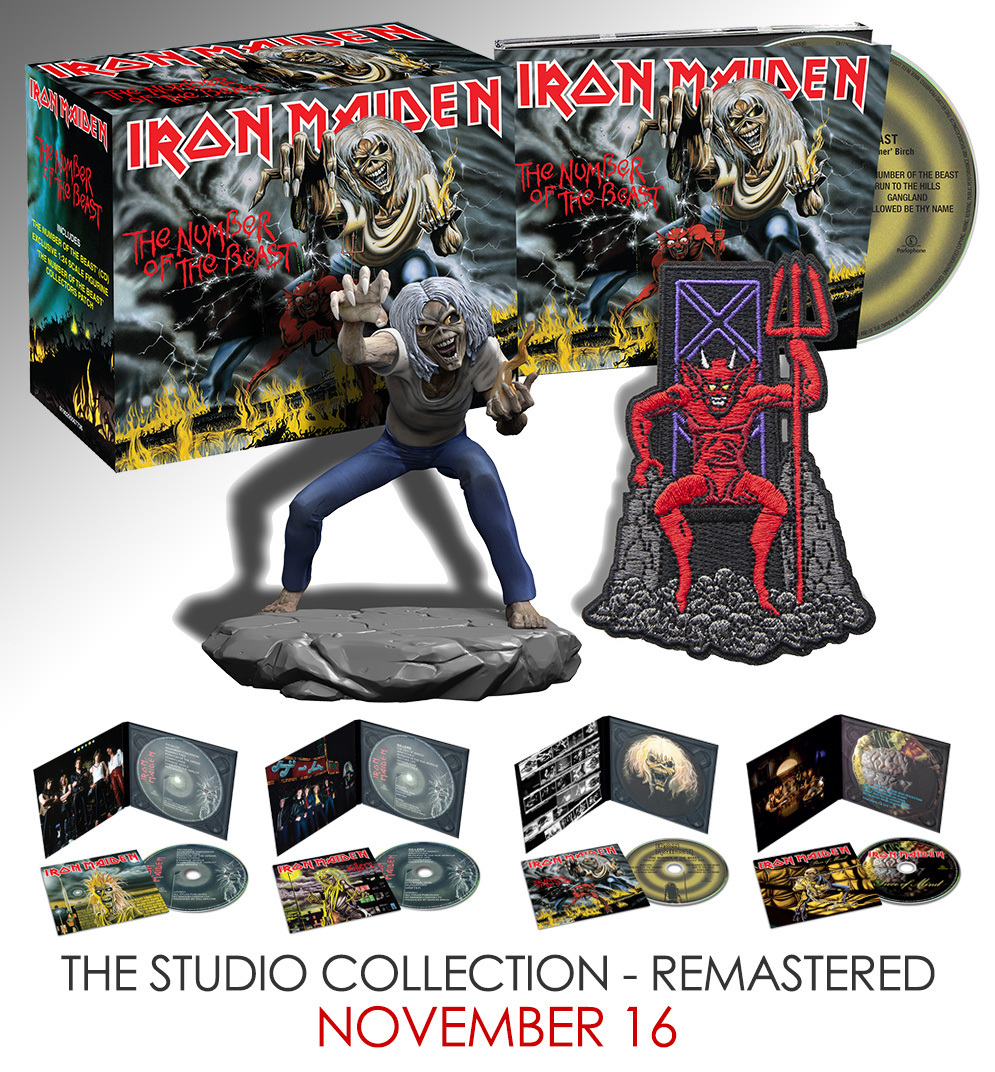 1st batch: November 16th
Iron Maiden / Killers / The Number Of The Beast (option of standard or collectors boxset edition including TNOTB Eddie figurine and patch) / Piece Of Mind 
2nd batch: Feb 2019
Powerslave / Somewhere In Time (standard/collectors) / Seventh Son Of A Seventh Son / No Prayer For The Dying
3rd batch April 2019
Fear Of The Dark (standard/collectors) / The X Factor / Virtual XI / Brave New World
4th batch June 2019
Dance Of Death / A Matter Of Life And Death (standard/collectors) / The Final Frontier / The Book Of Souls*
*not remastered but appearing in Digipak for the first time