Slash Featuring Myles Kennedy And The Cospirators pubblicheranno il prossimo 20 settembre, via Eagle Vision, "Living the Dream Tour", in formato DVD+ 2CD, Blu-ray+ 2CD, 3LP vinile nero, limited edition 3 LP vinile rosso e formato digitale video e audio.
"Living the Dream Tour", girato lo scorso 20 febbraio all'Eventim Apollo di Londra, racchiude due ore di show con una setlist composta da song provenienti da tutti e quattro gli album solisti di Slash, fra le quali: 'Call of the Wild', 'Driving Rain', 'By the Sword', 'Back from Cali', 'Starlight', 'World on Fire' e 'Anastasia'.
Più sotto un primo assaggio di "Living the Dream Tour" mentre la band suona 'Anastasia'.
Di seguito la tracklist:
"Living the Dream Tour" tracklist:
01. The Call of the Wild 
02. Halo 
03. Standing in the Sun 
04. Ghost 
05. Back From Cali 
06. My Antidote 
07. Serve You Right 
08. Boulevard of Broken Hearts 
09. Shadow Life 
10. We're All Gonna Die 
11. Doctor Alibi 
12. Lost Inside the Girl 
13. Wicked Stone 
14. Mind Your Manners 
15. Driving Rain 
16. By the Sword 
17. Nightrain 
18. Starlight 
19. You're a Lie 
20. World on Fire 
21. Avalon 
22. Anastasia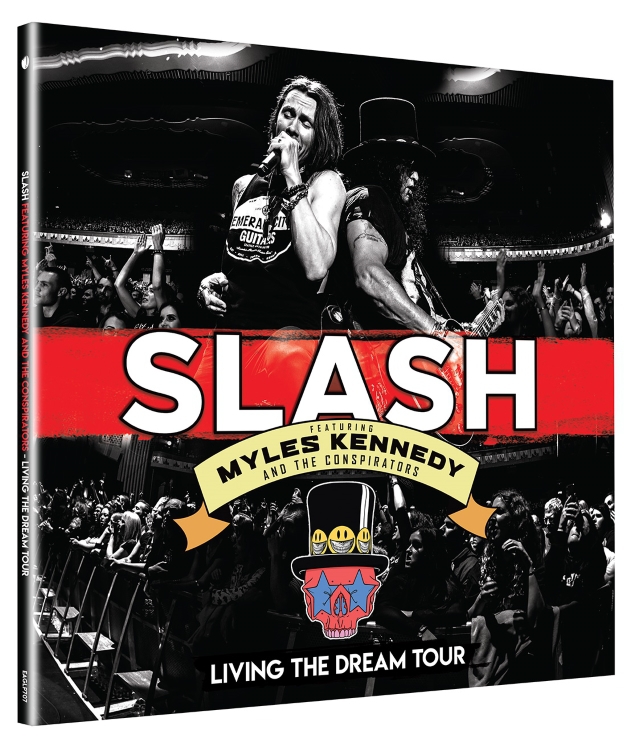 https://www.facebook.com/Slash-featuring-Myles-Kennedy-and-The-Conspirators-469295349797499/