Death
Origin: il lyric video di 'Nostalgia For Oblivion'
Gli Origin hanno pubblicato il lyric video di 'Nostalgia For Oblivion', dal loro ultimo album "Chaosmos" del 2022. La band americana, lo ricordiamo, tra pochissimi giorni terrà tre date in Italia in compagnia degli storici Monstrosity.
Dive into outer space with American tech-death titans ORIGIN in their new, cosmic lyric video for the "Chaosmos" album song, "Nostalgia For Oblivion". The video is available at this address:
Released in 2022, "Chaosmos" is ORIGIN's eighth studio installment, available on Agonia Records in Europe and Nuclear Blast Records in rest of the world. In support of the album, the band kicked off a co-headlining European trek with Monstrosity on January 6th in Switzerland, with plans to play in nine more countries by the end of January. Supporting them are Reject The Sickness and Intrepid.
Remaining tour dates:
13.01 GER Dortmund / Junkyard
14.01 HOL Apeldoorn / Gigant
16.01 CH Martigny / Sunset
17.01 ITA Milan / Legend
18.01 ITA Rome / Traffic
19.01 ITA San Dona di Piave / Revolver
20.01 A Graz / Explosiv
21.01 A Innsbruck / Livestage
22.01 A Wien / Escape Metalcorner
24.01 SK Bratislava / Randall
25.01 CZ Ostrava / Barrak
26.01 CZ Brno / Melodka
27.01 GER Zwickau / Club Seilerstrasse
28.01 GER Berlin / ORWO Haus
29.01 POL Poznań / Tama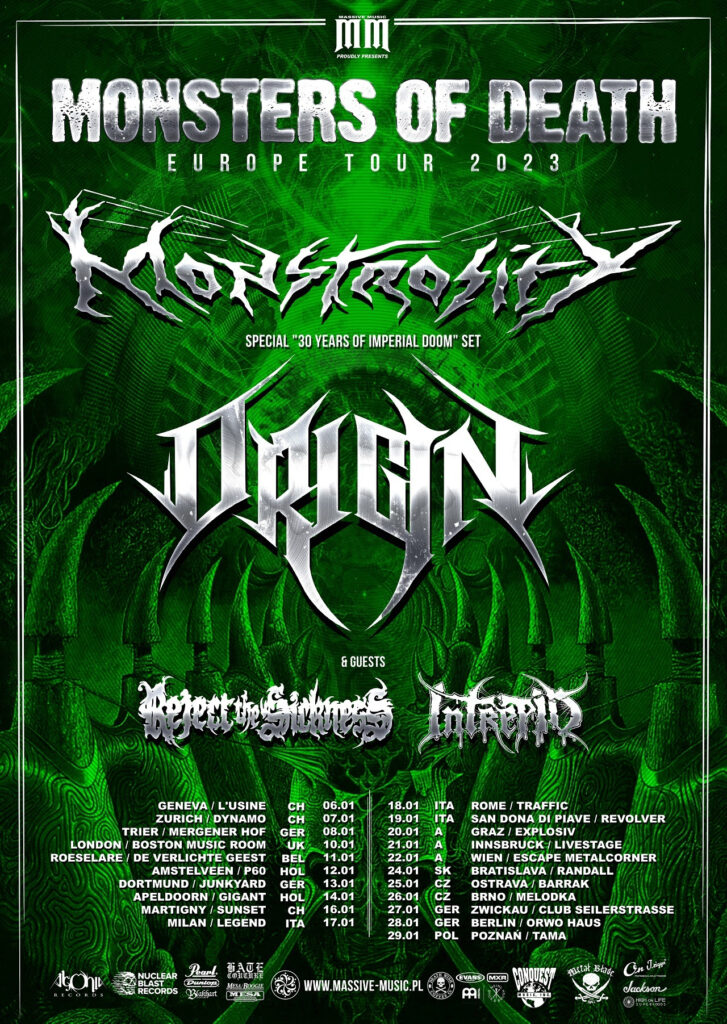 The band commented on the ongoing tour, which makes a stop in Germany tonight on January 13th: "Europe!!! It's been almost 5 years since we have seen you, and we are happy to announce our triumphant return with Massive Music! This January, we give you the "MONSTERS OF DEATH EUROPEAN TOUR 2023."
"We are proud to announce this co-headlining bill alongside our brethren, Florida death metal legends MONSTROSITY whom is celebrating 30 years of IMPERIAL DOOM! Rounding out the bill for us will be Belgium's REJECT THE SICKNESS and INTREPID from Estonia."
"Rrest assured This is just the start of 2023 and there will be much much more to come from ORIGIN! Where will we see you??"
Photo credit: Rodrigo Fredes
Line-up:
Jason Keyser – vocals
Paul Ryan – guitars/vocals
Mike Flores – bass/vocals
John Longstreth – drums
More on "Chaosmos":
https://www.origin-chaosmos.com
https://www.originofficial.com/chaosmos
ORIGIN on-line:
Facebook: https://www.facebook.com/Origin
Twitter: https://twitter.com/OriginBand
Instagram: https://www.instagram.com/originband/
YouTube: https://www.youtube.com/user/OriginOfficial