Album: A Tribute to the Madmen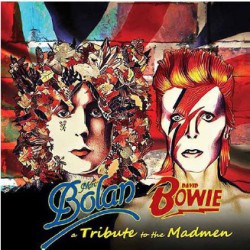 Album: A Tribute to the Madmen
Band:
AA.VV.
Data di uscita: 2017
Etichetta:
Black Widow records
Genere:
Hard Rock
Nazione:
Recensione:
A Tribute to the Madmen
Esattamente come le case editrici di fumetti erano use fare – e peraltro fanno ancora, le poche rimaste, sigh! – nel momento in cui un'uscita raggiungeva un numero "pieno", quindi psicologicamente associabile a un risultato di un certo rilievo, nasceva naturale l'esigenza...
Leggi tutta la recensione
Tracklist
CD 1
1. PAUL ROLAND Meadows Of The Sea 4:35
2. PAUL ROLAND The Prettiest Star 3:29
3. BARI WATTS By the light of a magical moon 2:59
4. BARI WATTS Lady Stardust 3:40
5. ADRIAN SHAW Jeepster 3:56
6. ADRIAN SHAW It's ain't easy 3:41
7. THE DANSE SOCIETY Ride A White Swan 2:38
8. THE DANSE SOCIETY Scary Monster 5:10
9. V. PERAINO KINGDOM COME Monolith 4:49
10. V. PERAINO KINGDOM COME Panic In Detroit 4:03
11. La FABBRICA DELL'ASSOLUTO Metropolis 3:16
12. La FABBRICA DELL'ASSOLUTO Big Brother 4:26
13. DEATH SS 20th Century Boy 3:40
14. DEATH SS Cat People (Cutting Out Fire) 4:11
15. PRESENCE Children Of The Revolution 3:16
16. PRESENCE We are the dead 5:05
17. FRANCK CARDUCCI The Slider 3:25
18. FRANCK CARDUCCI Life On Mars 4:16
TOTAL TIME: 70 min 35 secs COPERTINA CD 1

CD 2
19. THE HOUNDS OF HASSELVANDER Chariot Choogle 3:25
20. THE HOUNDS OF HASSELVANDER Cracked Actor 3:33
21. BLOODING MASK Beltane Walk 3:28
22. BLOODING MASK The Hear'st Filthy Lesson 3:43
23. IL SEGNO DEL COMANDO Mambo Sun 7:02
24. IL SEGNO DEL COMANDO Ashes To Ashes 7:22
25. SOPHYA BACCINI'S ARADIA Cosmic Dancer 4:53
26. SOPHYA BACCINI'S ARADIA Velvet Goldmine 3:04
27. SILVIA CESANA Girl 3:56
28. SILVIA CESANA Heroes 3:41
29. O.A.K. Oscillazioni Alchemico Kreative Cat Black 3:51
30. O.A.K. Oscillazioni Alchemico Kreative The man who sold the world 4:59
31. WITCHWOOD Childe Star 6:36
32. WITCHWOOD Rock'n'roll Suicide 3:00
33. ELOHIM Ride A White Swan 3:05
34. ELOHIM Let's dance 3:56
TOTAL TIME 69 mins 45 secs
CARTOLINA DA COLLEZIONE

CD 3
35. NORTHWINDS Childe 1:52
36. NORTHWINDS Space Oddity 5:15
37. FREDDY DELIRIO Buick Mackane 3:35
38. FREDDY DELIRIO Rebel Rebel 4:30
39. GENERAL STRATOCUSTER & The MARSHALS Metal Guru 2:43
40. GENERAL STRATOCUSTER & The MARSHALS Moonage Daydream 4:42
41. THE MUGSHOTS Pain And Love 4:46
42. THE MUGSHOTS China Girl 5:32
43. ELECTRIC SWAN Midnight 4:11
44. RAMA AMOEBA Telegram Sam 4:46
45. RAMA AMOEBA Dandy in the Underworld 5:13
46. LANDSKAP Ballroom Of Mars 6:41
47. LANDSKAP Look Back In Anger 5:37
48. BLUE DAWN Rip Off 4:29
49. BLUE DAWN Warszawa 5:48
TOTAL TIME 69 mins 40 secs
Formazione
Interpreti vari