Album: Another State Of Grace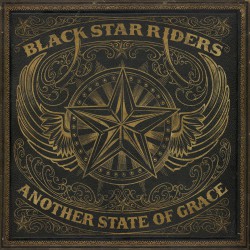 Album: Another State Of Grace
Band:
Black Star Riders
Data di uscita: 2019
Etichetta:
Nuclear Blast
Genere:
Hard Rock
Nazione:
Recensione:
Another State Of Grace
"Another State Of Grace" è un vero toccasana. I Black Star Riders sono tornati con un nuovo album, una nuova formazione e quella che il frontman Ricky Warwick chiama "una nuova energia e chimica". Nei sette anni trascorsi da quando Warwick e il leggendario chitarrista Scott Gorham hanno dato vita...
Leggi tutta la recensione
Tracklist
1 - Tonight The Moonlight Let Me Down 3:54
2 - Another State Of Grace 3:39
3 - Ain't The End Of The World 3:30
4 - Underneath The Afterglow 3:40
5 - Soldier In The Ghetto 4:37
6 - Why Do You Love Your Guns? 4:58
7 - Standing In The Line Of Fire 3:08
8 - What Will It Take? 4:11
9 - In The Shadow Of The War Machine 3:30
10 - Poisoned Heart 3:39
11 - Candidate For Heartbreak (bonus)
Formazione
Ricky Warwick | Vocals
Scott Gorham | Guitar
Christian Martucci | Guitar
Robbie Crane | Bass
Chad Szeliga | Drums