Album: Prophecy of Ragnarök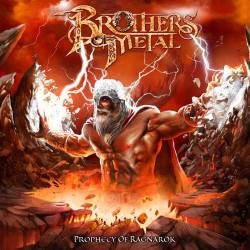 Album: Prophecy of Ragnarök
Band:
Brothers Of Metal
Data di uscita: 2018
Etichetta:
AFM Records
Genere:
Power
Nazione:
Recensione:
Prophecy of Ragnarök
Fratelli del metallo. Provenienti da Falun, Svezia, i Brothers of Metal sono una power metal band composta da ben otto elementi, con tre chitarre (mica solo gli Iron Maiden!) e tre voci, intente come potete ben immaginare a narrare le vicende epiche e leggendarie della mitologia norrena. Del resto il...
Leggi tutta la recensione
Tracklist
01. The Death Of The God Of Light
02. Son Of Odin
03. Prophecy Of Ragnarok
04. Defenders Of Valhalla
05. Concerning Norns
06. Yggdrasil
07. Tyr
08. Siblings Of Metal
09. Gods Of War
10. Freya
11. The Mead Song
12. Sleipnir
13. Fire Blood And Steel
14. We Believe In Metal
Formazione
Emil Wärmedal - Bass
Pähr Nilsson - Guitars
Ylva Eriksson - Vocals
Johan Johansson - Drums
Dawid Grahn - Guitars
Mikael Fehrm - Guitars
Joakim Lindbäck Eriksson - Vocals
Mats Nilsson - Vocals