Album: Tales of Fire and Ice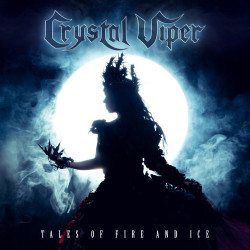 Album: Tales of Fire and Ice
Band:
Crystal Viper
Data di uscita: 2019
Etichetta:
AFM
Genere:
Power
Nazione:
Recensione:
Tales of Fire and Ice
E siamo a sette! Ebbene sì, i polacchi Crystal Viper raggiungono, con "Tales of Fire and Ice", quota sette album da studio, più un live e singoli vari. Non male, dato che il gruppo nasce nel 2003 e l'esordio discografico è datato 2007. Certo, come voi mi insegnate non...
Leggi tutta la recensione
Tracklist
01 Prelude
02 Still Alive
03 Crystal Sphere
04 Bright Lights
05 Neverending Fire
06 Interlude
07 Under Ice
08 One Question
09 Tomorrow Never Comes (Dyatlov Pass)
10 Tears Of Arizona
11 Dream Warriors
Formazione
Marta Gabriel (voce, chitarre)
Andy Wave (chitarre)
Eric Juris (chitarre)
Blaze J. Grygiel (basso)
Tomek Danczak (batteria)