Album: Tales of the Northern Swords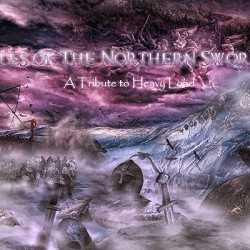 Album: Tales of the Northern Swords
Band:
AA.VV.
Data di uscita: 2014
Etichetta:
Underground Symphony
Genere:
Heavy
Nazione:
Recensione:
Tales of the Northern Swords - A tribute to Heavy Load
Per tutti quelli che, come il sottoscritto, sono cresciuti a pane e Acciaio, gli Heavy Load hanno costituito degli autentici eroi dell'epopea del Metallo. Oscuri, improbabili da vedere nelle lande italiche in veste live, incarnavano la classica band inarrivabile. Ad alimentare il Loro status di...
Leggi tutta la recensione
Tracklist
CD1:

Dark Nights (Shadows Of Steel )
Free (Dark Horizon)
Might For Right (Arthemis)
Heatens From The North (Madwork)
Stronger Than Evil (Eternal Silence)
Dreaming (The Moor)
Moonlight Spell (Barbarians)
The Guitar Is My Sword (Fogalord)
Roar Of The North (Metal Detector)
Singing Swords (Ghost City)
Little Lies (Twilight Zone)


CD2:

The King (Great Master)
Still There Is Time (Tragodia)
You've Got The Power (Isengard)
Hey (Neversin)
Traveller (Wild Steel)
Daybreak Ecstasy (Echotime)
I'm Alive (Runa)
Heavy Metal Heaven (Crazy Rain)
Heavy Metal Angels -In Metal and Leather- (Anvil Therapy)
Trespasser (Black Inside)
Run With The Devil (Underground Symphony All Stars)