Album: The Anthropocene Extinction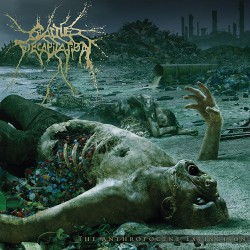 Album: The Anthropocene Extinction
Band:
Cattle Decapitation
Data di uscita: 2015
Etichetta:
Metal Blade Records / Audioglobe
Genere:
Death
Nazione:
Recensione:
The Anthropocene Extinction
Sono passati tre anni da "Monolith Of Inhumanity", album che ha segnato, in meglio, una svolta nella carriera dei californiani Cattle Decapitation. Ritenuti dai più di irrilevante spessore qualitativo, magari per una sorta di invidia relativamente alla loro presenza nel roster della Metal Blade...
Leggi tutta la recensione
Tracklist
01. Manufactured Extinct 4:41
02. The Prophets Of Loss 4:07
03. Plagueborne 4:58
04. Clandestine Ways (Krokodil Rot) 4:34
05. Circo Inhumanitas 4:03
06. The Burden Of Seven Billion 1:23
07. Mammals In Babylon 4:09
08. Mutual Assured Destruction 2:42
09. Not Suitable For Life 3:16
10. Apex Blasphemy 3:45
11. Ave Exitium3:06
12. Pacific Grim 5:25

Durata complessiva 46 min. ca.
Formazione
Travis Ryan - Voce
Josh Elmore - Chitarra
Derek Engemann - Basso
David McGraw - Batteria