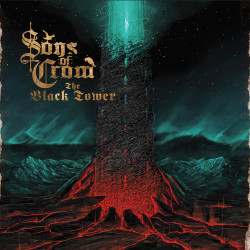 Album: The Black Tower
Band:
Sons Of Crom
Data di uscita: 2017
Etichetta:
Nordvis Produktion
Genere:
Heavy
Nazione:
Recensione:
The Black Tower
Epica intensità viene profusa dalle note di "The Black Tower", secondo lavoro in studio degli svedesi Sons of Crom. Il sound proposto è un heavy metal che talune volte si affaccia al concetto viking e che idealmente si trova a metà tra Candlemass e Bathory. Due nomi importanti...
Leggi tutta la recensione
Tracklist
1.Steps of Doom
2.In Fire Reborn
3.Fall of Pandemonium
4.Legacy
5.Black Wings up High
6.Summoning the Starborn
7.Viimeinen Laki
8.Rebirth of the Sun
Formazione
Iiro Sarkki - Vocals, Drums
Janne Posti - Vocals, Guitars, Bass, Keyboards