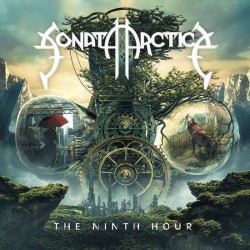 Album: The Ninth Hour
Band:
Sonata Arctica
Data di uscita: 2016
Etichetta:
Nuclear Blast Records
Genere:
Power
Nazione:
Recensione:
The Ninth Hour
What if we could somehow Store knowledge in a cloud Draw a smiling face on the moon Find the meaning of life   C'era una volta una band esordiente con il suo primo full-length a fine millennio che seppe stupire le scene power metal. Dalla fredda e magica Finlandia regalò altri tre buoni...
Leggi tutta la recensione
Tracklist
01. Closer to an Animal (05:25)
02. Life (05:06)
03. Fairytale (06:38)
04. We Are What We Are (05:25)
05. Till Death's Done Us Apart (06:06)
06. Among the Shooting Stars (04:10)
07. Rise a Night (04:28)
08. Fly, Navigate, Communicate (04:27)
09. Candle Lawns (04:32)
10. White Pearl, Black Oceans (Part II: By the Grace of the Ocean) (10:13)
11. On the Faultline (Closure to an Animal) (05:34)

Durata totale: 62:04 min.
Formazione
Elias Viljanen – chitarra
Henrik Klingenberg – tastiera
Pasi Kauppinen – basso
Tommy Portimo – batteria
Tony Kakko – voce