Album: The Scythe of Cosmic Chaos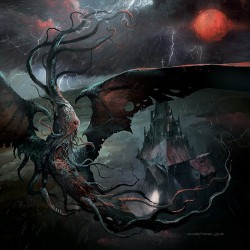 Album: The Scythe of Cosmic Chaos
Band:
Sulphur Aeon
Data di uscita: 2018
Etichetta:
Ván Records
Genere:
Death
Nazione:
Recensione:
The Scythe of Cosmic Chaos
"The Scythe of Cosmic Chaos", terzo album in carriera per i Sulphur Aeon, deathster tedeschi che, così, assieme a "Swallowed by the Ocean's Tide" (2013) e "Gateway to the Antisphere" (2015), cominciano ad avere una discografia di tutto rispetto. Non solo per il numero ma, soprattutto, per la qualità....
Leggi tutta la recensione
Tracklist
01. Cult of Starry Wisdom 6:02
02. Yuggothian Spell 5:11
03. The Summoning of Nyarlathotep 6:14
04. Veneration of the Lunar Orb 5:13
05. Sinister Sea Sabbath 9:25
06. The Oneironaut - Haunting Visions Within the Starlit Chambers of Seven Gates 6:34
07. Lungs into Gills 5:54
08. Thou Shalt Not Speak His Name (The Scythe of Cosmic Chaos) 6:53

Durata complessiva 51 min. ca.
Formazione
M. – Voce
T. – Chitarra
A. – Chitarra
S. – Basso
D. – Batteria