Album: The Slow Rust Of Forgotten Machinery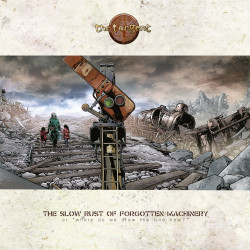 Album: The Slow Rust Of Forgotten Machinery
Band:
The Tangent
Data di uscita: 2017
Etichetta:
Inside Out
Genere:
Progressive
Nazione:
Recensione:
The Slow Rust Of Forgotten Machiner
Nono studio album in nemmeno 15 anni d'attività: con The Slow Rust Of Forgotten Machinery (che vede la luce due anni dopo A Spark in the Aether) i britannici The Tangent continuano a macinare buona musica nel più schietto spirito neo prog. Tra le novità della nuova uscita da segnalare...
Leggi tutta la recensione
Tracklist
1. Two Rope Swings 06:32
2. Dr. Livingstone (I Presume) 11:58
3. Slow Rust 22:31
4. The Sad Story Of Lead and Astatine 16:00
5. A Few Steps Down The Wrong Road 17:31

Durata totale: 74:00 min.
Formazione
Andy Tillison – tastiera, voce, batteria
Jonas Reingold – basso
Luke Machin – chitarra e seconde voci
Theo Travis – sassofono e flauto traverso
Marie-Eve de Gaultier – tastiera e seconde voci