Black
Abhor: in arrivo il nuovo "Sex Sex Sex (Ceremonia Daemonis Antichristi)"; ascolta la title-track
Gli Abhor pubblicheranno il 23 settembre per Iron Bonehead Productions il loro ottavo album "Sex Sex Sex (Ceremonia Daemonis Antichristi)". La band veneta ha diffuso lo streaming della title-track sul canale Youtube No Gleaming Light.
Today, long-running Italian black metallers Abhor premiere the new track "Ceremonia Daemonis Antichristi" at the No Gleaming Light YouTube channel. The track is the second to be revealed from the band's highly anticipated eighth album, Sex Sex Sex (Ceremonia Daemonis Antichristi), set for international release on September 23rd via
Iron Bonehead Productions. Hear Abhor's title track "Ceremonia Daemonis Antichristi" in its entirety exclusively HERE.
Abhor are a veritable institution of Italian black metal. Formed in 1995 in the northeast of Italy, the band began with a passion for black metal music and the study of esoteric arts. Less like a band and more like a congregation, Abhor represent a form of global art that embraces musical art, visual art, and literal art. Their first musical manifestation came in 1998, with the first demo tape In Tuo Honori Preparatum. From there, Abhor were off and running, subsequently releasing six albums with a variety of labels, doing honorable underground work. Within their ranks came many musicians, including members of compatriots Evol. But, arguably, Abhor reached their apotheosis with their seventh album (and first for current label home Iron Bonehead), Occulta religiO. Released in 2018, this veritable blazing-purple torch conveyed a bewitching mysticism and beyond-the-veil secrecy that showed the band at their most masterful, even at this mature stage.
And, although four years have passed since that momentous event – and a split mini-album with fellow Italian occultists Abysmal Grief in 2019, also courtesy of Iron Bonehead – Abhor continue their deeper-into-the-catacombs ascent with the devilish Sex Sex Sex (Ceremonia Daemonis Antichristi). Truly titled, Sex Sex Sex brings a spooky sensuality to Abhor's trademark style of olde-worlde black metal. With both Hammer Horror organs to the fore and a macho headbanging stomp, the Italians create a canvas of arcane mysteries and ancient metal might, foregoing so much of the fluff that's characterized post-"second wave" black metal and striking true(r) to the sound of the Old Gods: Celtic Frost, Mortuary Drape, Varathron, Samael, and even very earliest Mayhem. It's more of "no more, but no less" Esoteric Horror Black Metal, but still suffused with an undeniable energy and electricity, even when creeping slowly through those catacombs. It's an immediately recognizable sound that's neither regressive nor progressive, and Abhor conjure it with enviously effortless zeal.
Unshackle thyself from the morals and mores of the modern world and return to more sinister and sinful times with Abhor's Sex Sex Sex (Ceremonia Daemonis Antichristi)!
The second sin can be found with the brand-new title track "Ceremonia Daemonis Antichristi" exclusively HERE, courtesy of the No Gleaming Light YouTube channel. The first sin can be found with the previously revealed "Evil Mentor" HERE at Iron Bonehead's Soundcloud. Cover and tracklisting are as follows: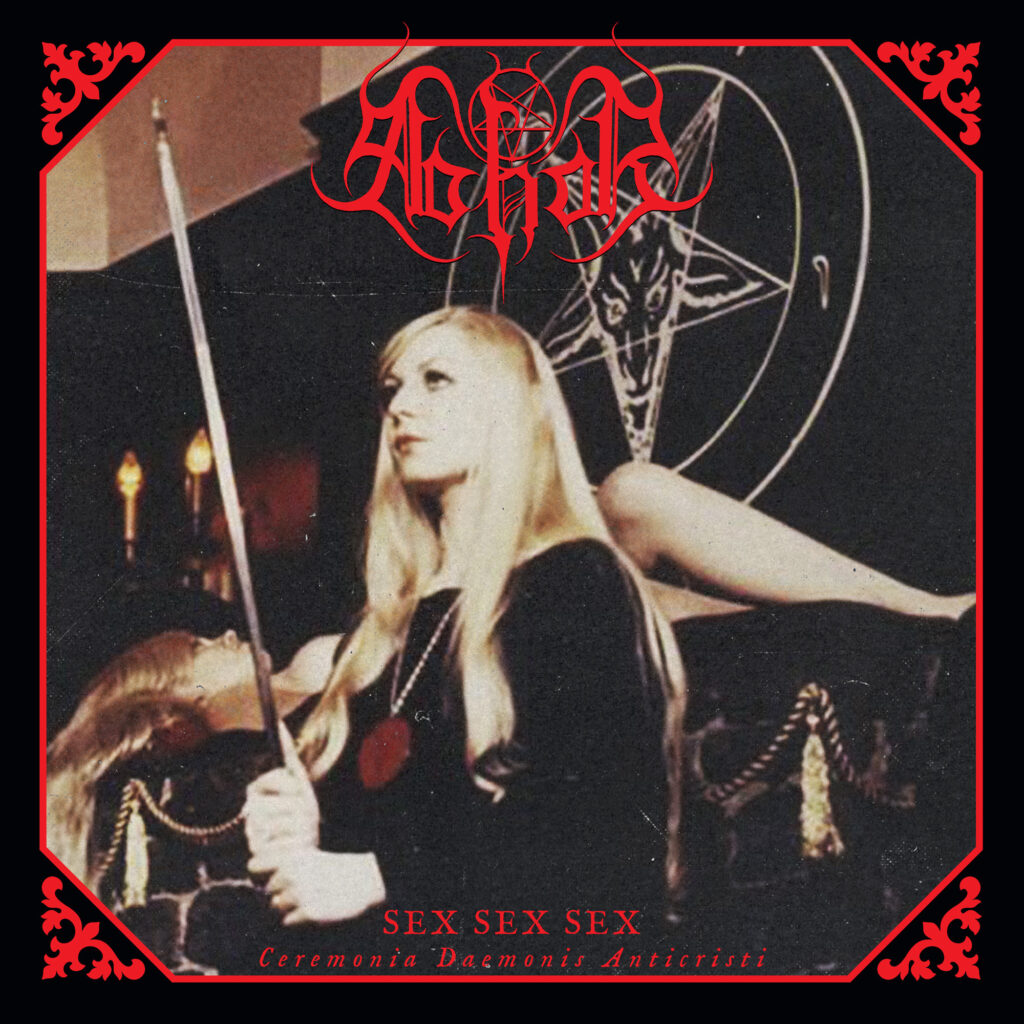 Tracklisting for Abhor (Italy)'s Sex Sex Sex (Ceremonia Daemonis Antichristi)
1. The Curse of the Twins
2. Ceremonia Daemonis Anticristi
3. At the Edge of the Circle
4. Ode to the Snake
5. Ritual Satanism
6. Evil Mentor
7. Beelzebuth [Mystifier cover]
8. October 31st, 2010
9. The Call
10. Violet Coven