Vario
Coheed And Cambria: i primi dettagli del nuovo "Vaxis II: A Window Of The Waking Mind"
Dopo aver pubblicato il video di 'Shoulders' la scorsa estate, i Coheed And Cambria hanno diffuso i primi dettagli del nuovo album "Vaxis II: A Window Of The Waking Mind", in arrivo il prossimo 27 maggio.
Tracklist:
01. The Embers Of Fire
02. Beautiful Losers
03. Comatose
04. Shoulders
05. A Disappearing Act
06. Love Murder One
07. Blood
08. The Liars Club
09. Bad Man
10. Our Love
11. Ladders Of Supremacy
12. Rise, Naianasha (Cut The Cord)
13. Window Of The Waking Mind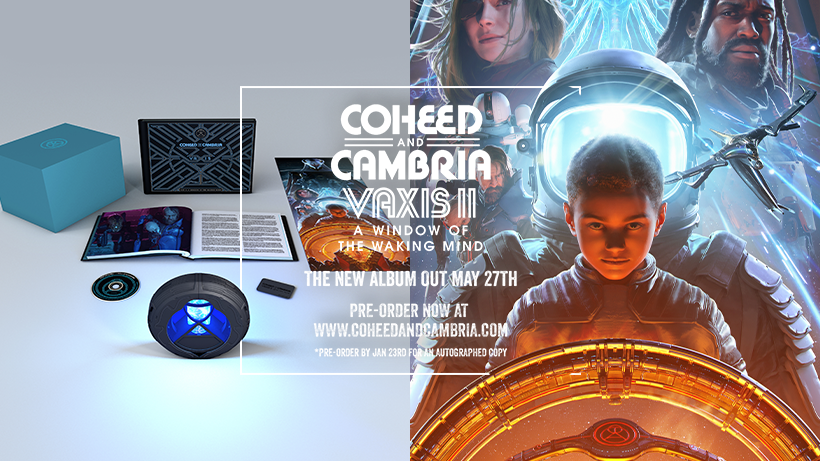 Vaxis II: A Window of the Waking Mind
Limited Edition Deluxe Box Set

This Limited Edition Deluxe Box set houses the following items in a custom foil stamped box (9.5"x12x"5.5"):
+Exclusive "Quintillan Speaker Containment Unit" Lamp (appx 8" diameter)
+Exclusive 96-Page illustrated Hard Cover book "A Window of the Waking Mind" (9×12) Created by Claudio Sanchez, written by Chondra Echert
+Exclusive 12"x36" 3-panel fold out poster of expanded album cover art.
+CD and Download of Vaxis II: A Window of the Waking Mind full length album.
+Exclusive AWOTWM Black Card which allows card holders early access to tickets and early entry to Coheed and Cambria headline shows (subject to availability) and more. Details subject to change.
+Pre-Order comes with instant high res download of "Shoulders" and "Rise, Naianasha (Cut the Cord)"with additional tracks scheduled to follow.
+Invite to AWOTWM Discord.
+Certificate of Authenticity

All those who order before January 23, 2022 will get their name in the book and a signed COA.