Black
Death
Embrace of Thorns: ascolta in anteprima tutto l'imminente album "Entropy Dynamics"
Gli Embrace of Thorns hanno messo in streaming in anteprima tutto il nuovo album "Entropy Dynamics", in uscita lunedì 10 ottobre per Nuclear Winter Records. L'ascolto è stato diffuso sul canale Youtube di No Gleaming Light.
Today, Greek black/death titans Embrace of Thorns stream the entirety of their highly anticipated sixth album, Entropy Dynamics, at the No Gleaming Light YouTube channel. Set for international release on October 10th via Nuclear Winter Records, hear Embrace of Thorns' Entropy Dynamics in its entirety exclusively HERE.
Emerging in the late '90s from western Athens as Requiem, only to be soon renamed to the more apt Embrace of Thorns, the Greek Temple of Black Death has been championing Darkness Impenetrable for more than 20 years.
Having released five albums on labels such as Nuclear War Now! and Iron Bonehead plus an arsenal of demo tapes and split releases, Embrace of Thorns have been acknowledged as a force to be reckoned with. Their poison, a highly atmospheric and dense amalgam of death and black metal, has been gaining momentum since the release of their acclaimed sophomore album, Atonement Ritual, in 2009.
Their third full-length, 2011's Praying for Absolution, considered by many as their magnum opus, saw them fully embracing their potential and heralding knowledge through strife.
Their latest full-length offering, 2018's Scorn Aesthetics, was unanimously hailed and celebrated as arguably their ripest album, an idiosyncratic mix of somber, melodious, yet punishing Black Metal of Death that relies heavily on the organic mood of the performances and production. The new EP called The Pantheon I they unleashed in March continues exploring the pits of strife that is blackened metal of death, with music that is full of anguish, glorious darkness, and crushing dynamics.
Now aligned with longtime fans Nuclear Winter, Embrace of Thorns are set to release their sixth album, Entropy Dynamics. The band's first full-length recording in four years, Entropy Dynamics indeed includes many/most of the dynamics of their preceding LPs – death metalled muscularity, pitch-blackened atmosphere, stellar songwriting, and powerful production – but it also points the way toward new, creepier territory.
For sure, Embrace of Thorns' grounding in the early bestial sound can still be heard, but rendered with the world-eating totality of classic death metal, that surge takes on a different, far-more-frightening form. The quartet heighten that frightening aspect with a subtle-yet-no-less-noticeable emphasis on dynamics rather than just crushing their enemies straightaway; when the soundfield strips back to its barest bones and ringing-into-the-abyss clean guitars take center stage, the full force of Entropy Dynamics is felt.
Always staying true to themselves whilst maturing in the most respectable manner, Embrace of Thorns continue their campaign of extreme metal destruction with Entropy Dynamics. To coincide with its release, celebratory reissues of their sold-out albums Atonement Ritual and Praying for Absolution will also be available again via Nuclear Winter, as well as a CD version of the preceding EP The Pantheon I, which will be supplemented with an exclusive bonus track.
In the leadup to its international release next week, hear Entropy Dynamics in its entirety exclusively HERE, courtesy of the No Gleaming Light YouTube channel. Cover and tracklisting are as follows: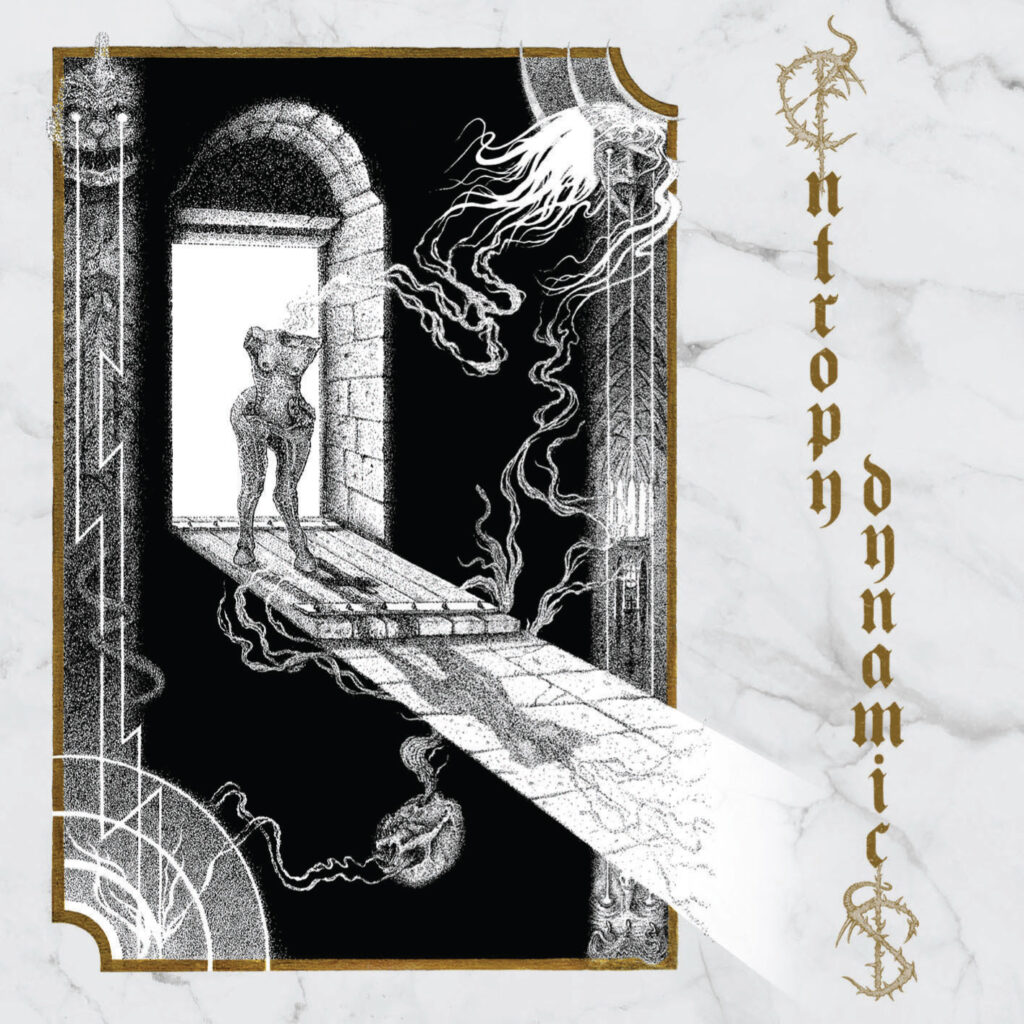 Tracklisting for Embrace of Thorns' Entropy Dynamics
1. Blackest Orthodoxy Perpetuated
2. Entropy Dynamics / Nucleus Dissolved
3. The Arrow of Time
4. The Breath of the Beast
5. I Wish you Burn in an Endless Funeral Pyre
6. Scythes Reaping Conscience
7. The Lament of the Destroyed
8. Wormfeast
9. Transformation into a Celestial Ghoul
10. Vultures' Ritual Dance
11. Ululation
MORE INFO:
www.facebook.com/EmbraceOfThorns
www.embracethorns.bandcamp.com