Grindcore
Misery Index: online il music video ufficiale di 'Rites of Cruelty'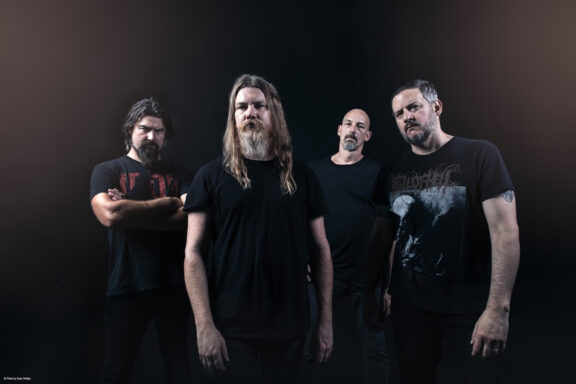 Comunicato stampa:
I MISERY INDEX continuano a promuovere il loro nuovo album "Complete Control", pubblicato in tutto il mondo tramite Century Media Records all'inizio di quest'anno, lanciando un nuovo video per il brano "Rites of Cruelty". Guarda il video creato da Chris Joao / Iron Elephant Studio:
Il commento del bassista e cantante Jason Netherton:
"Questo video è un grido sincero a tutti i fan di MISERY INDEX che hanno fatto lo sforzo di venire a far casino con noi quest'estate durante il tour del nostro ultimo album. Questo video è un omaggio ai bei tempi dell'estate passata mentre entriamo nei mesi più bui dell'autunno. Abbiamo scelto la traccia 'Rites of Cruelty' in quanto riteniamo che incarni tutta l'energia e l'incazzatura del nostro nuovo album. È diventata un punto fermo del nostro live set e spero che anche voi la apprezziate."
---
Furthermore, MISERY INDEX are returning to Europe this weekend for a short run of festival dates as follows:
MISERY INDEX – Live in Europe:
TH 03.11.2022 Malmö (Sweden) – Plan B / https://www.facebook.com/events/1119875885622846
FR 04.11.2022 Aalborg (Denmark) – Aalborg Metal Festival / https://aalborgmetalfestival.dk/
SA 05.11.2022 Manchester (UK) – Damnation Festival / https://www.damnationfestival.co.uk/
Look out for further international live activity by MISERY INDEX in 2023 to be announced soon…
Upon release, MISERY INDEX's "Complete Control" managed to enter the official album sales charts upon release in Germany on # 23, in Switzerland on # 35 as well as in the USA as follows: Current Hard Music Albums: # 7, Heatseekers Albums: # 119, Top New Artist Albums: # 12 and Current Album Sales: # 100.
Other released singles and promotional video clips for the "Complete Control" album can be seen here:
"The Eaters and the Eaten": https://youtu.be/gB9KcSTJtoE
"Infiltrators": https://youtu.be/SWipM-CjNa4
"Complete Control": https://youtu.be/c9lV84WHl1U
"Necessary Suffering" (Drum Playthrough by Adam Jarvis): https://www.youtube.com/watch?v=9Ub9GlXzAA0
"The Eaters and the Eaten" (Drum Playthrough by Adam Jarvis): https://youtu.be/ccu1WHPSHT8
"Administer The Dagger" (Guitar Playthrough Edit by Mark Kloeppel): https://www.youtube.com/watch?v=4v2anPCm_FQ
"Complete Control", the 7th studio album and Century Media debut for MISERY INDEX, was mixed by Will Putney, mastered by Jens Bogren / Fascination Street studios and features artwork by Matt Lombard. "Complete Control" is a riff-driven assault that captures the tension of the modern condition and channels it into 9 songs of ripping end-times Death Metal. Spewing with Orwellian invective and razor-sharp songwriting, "Complete Control" is a much-needed hammer to the face; a wake-up call for the disaffected and dispossessed. This is the album's standard track-listing:
MISERY INDEX – "Complete Control" (33:53) Album:
1. Administer the Dagger (04:52)
2. The Eaters and the Eaten (03:40)
3. Complete Control (03:31)
4. Necessary Suffering (03:39)
5. Rites of Cruelty (04:28)
6. Conspiracy of None (04:48)
7. Infiltrators (02:08)
8. Reciprocal Repulsion (04:35)
9. Now Defied! (02:05)
Next to the Jewelcase CD, LP and Digital versions of the album, "Complete Control" is also available as limited Deluxe 2CD Box Set, containing the studio album as Jewelcase CD, an additional 5-Track Bonus EP entitled "Strategies of Manipulation" in a Slimline Case CD, a black Tote Bag with artwork print, a Button Set with 2 buttons and a double-sided Mini Poster. The exact track-listing for the Bonus EP is as follows:
MISERY INDEX – "Strategies of Manipulation" (13:52) Bonus EP:
1. Strategies of Manipulation (02:04)
2. Supposed to Rot (02:05) (Entombed Cover)
3. Infiltrators (Instrumental Version) (02:25)
4. The Eaters and the Eaten (Demo Version) (03:41)
5. Complete Control (Demo Version) (03:33)
The album's LP format comes on 180g vinyl and include a 4page LP-Booklet as well as a Poster in the A2 format. These are the available variants and limitations:
Black LP – Unlimited
Transp. Red LP – 1100x copies via all US outlets & Season Of Mist
Clear-Black Marbled LP – 500x copies via CM Distro and Evil Greed (European Bandshop)
Silver LP – 300x copies via EMP
White LP – 300x copies via Bandshops (IndieMerch / North America & Evil Greed / Europe)
The album can be ordered here: https://miseryindex.lnk.to/complete-control
Since the early 2000's, MISERY INDEX have performed over 1400 concerts in 44 countries, sharing stages with the likes of Napalm Death, Cannibal Corpse, Fear Factory, Dying Fetus, Amon Amarth, Behemoth, Nile, The Black Dahlia Murder, Kataklysm, Decapitated or EyeHateGod and making them one of the most intense and merciless live-acts of our time. Look out for many more dates across the globe to be announced soon for MISERY INDEX…
MISERY INDEX – Line-Up:
(From left to right on photo above by Ryan Philipps)
Darin Morris – Lead Guitar
Adam Jarvis – Drums
Mark Kloeppel – Guitar and Vocals
Jason Netherton – Bass and Vocals
MISERY INDEX – selected discography:
Retaliate – 2003
Dissent EP – 2004
Discordia – 2006
Traitors – 2008
Pulling Out the Nails (Compilation) – 2009
Heirs to Thievery – 2010
Live in Munich – 2013
The Killing Gods – 2014
Rituals of Power – 2019
Coffin Up the Nails (Compilation) – 2021
Complete Control – 2022
MISERY INDEX online:
https://www.miseryindex.com
https://www.instagram.com/miseryindex.official/
https://www.facebook.com/MiseryIndex
https://www.youtube.com/c/MiseryIndexOfficial
https://twitter.com/miseryindex