Prog Rock
Steve Hackett: i dettagli del nuovo album e primo estratto
Comunicato stampa:
La leggenda vivente del mondo del rock e delle sei corde Steve Hackett (ex-Genesis) è pronta a pubblicare il nuovo album "The Night Siren", previsto in uscita il 24 marzo 2017 su InsideOut Music (Sony).  Come anticipa il titolo stesso, l'album è una sorta di sveglia, il canto di una sirena in questa era di conflitti e divisioni.
 
Inoltre l'ex Genesis è lieto di presentare il primo brano disponibile del nuovo album. Di seguito si può ascoltare 'In The Skeleton Gallery'
Tracklist:
01.  Behind The Smoke
02.  Martian Sea
03.  Fifty Miles from the North Pole
04.  El Niño
05.  Other Side of the Wall
06.  Anything But Love
07.  Inca Terra
08.  In Another Life
09.  In The Skeleton Gallery
10.  West to East
11.  The Gift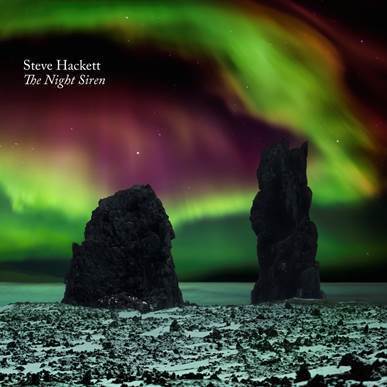 Steve had this to say about the song: "I'm excited by the imminent release of my new album, The Night Siren, which includes this track, "In The Skeleton Gallery". You know that ancient childhood night terror which creeps up on you in a dark moment when you're least expecting it… This track moves from a dream-like groove with a Middle Eastern tinged accompaniment through to a sinister march and on to an out-there nightmare ride, before the child's box of tricks reclaims it and the lid is finally closed…"
'The Night Siren' showcases Steve's incredible guitar playing as strongly as ever, along with musicians from several different countries who Steve invited to join him in celebrating multicultural diversity and unity.  This includes singers from Israel and Palestine, who both actively campaign to bring Jewish and Arabic people together. There are also instrumentals from the USA and Iraq and a multiplicity of sounds, including the exotic strains of Indian sitar and Middle Eastern tar and oud, the ethnic beauty of the Peruvian charango and the haunting Celtic Uilleann pipes.
Steve is widely travelled, making friends everywhere he goes and has always embraced multicultural diversity.  In these times of unrest, he has been inspired to express his belief that the world needs more empathy and unity. His wish to involve a range of musical sounds, instruments, musicians and singers from different parts of the world is both a development of his eclectic approach to music and shows how people can be brought together, even from war torn regions.
Talking about his latest work, Steve says, "This latest waxing represents a bird's eye view of the world of a musical migrant ignoring borders and celebrating our common ancestry with a unity of spirit, featuring musicians, singers and instruments from all over the world.  From territorial frontiers to walled-up gateways, boundaries often hold back the tide. But while the night siren wails, music breaches all defences. To quote Plato, 'When the music changes, the walls of the city shake'."
The musical journey takes us from 'Behind the Smoke', focusing on the plight of refugees throughout the ages, to the penultimate track 'West to East' which reflects on the damage of war and the hope for a better world. From personal to universal, the themes celebrate the life force, breaking free from chains of repression.
'The Night Siren' will be available as a special edition CD/Blu-Ray Mediabook featuring 5.1 surround sound & making of documentary, Standard jewelcase CD, Gatefold 2LP vinyl + CD & digital download. Pre-order the album digitally from iTunes or Amazon and receive the track 'In The Skeleton Gallery' immediately: http://smarturl.it/SteveHackettTNS
Furthermore, there are several strictly limited coloured vinyl editions:
"Northern Lights" ink spot vinyl (500 copies) now on sale at the band's official store: https://store.hackettsongs.com 
Clear vinyl (100 copies) & green (200 copies) on sale 24th February 2017: https://www.insideoutshop.de
In addition to singers Kobi and Mira (Israeli and Palestinian), also featured on the album are Nick D'Virgilio (drums) from the USA, Malik Mansurov (Tar) from Azerbaijan & Gulli Breim (drums & percussion) from Iceland, along with regular Hackett collaborators: Roger King, Nad Sylvan, Gary O'Toole, Rob Townsend and Amanda Lehmann.  Additional musicians who add to the rich flavour of the album are Christine Townsend (violin & viola), Dick Driver (double bass) and Troy Donockley (Celtic Uilleann). 
Steve Hackett is returning with an exciting new show Genesis Revisited with Classic Hackett for both UK/European & US tour dates. Celebrating the 40th anniversary of the classic Genesis album 'Wind and Wuthering', Steve and his band will be performing several tracks from the album as well as fan favourites such as 'The Musical Box' and other Genesis numbers never performed before by Steve's band including 'Inside & Out' and 'Anyway' as well as material from 'The Night Siren'.
Genesis Revisited with Classic Hackett 2017
7th-11th February  – Cruise to the Edge, Tampa, FL, USA
14th February – City Winery, Nashville, TN, USA
15th February – City Winery, Nashville, TN, USA
17th February – Victoria Theater, Newark, NJ, USA
18th February – State Theatre, Ithaca, NY, USA
22nd February – Ridgefield Playhouse, Ridgefield, CT, USA
23rd February – NYCB, Westbury, NY, USA
24th February – Santander PAC, Reading, PA, USA
25th February – Playstation Theater, New York, NY, USA
26th February – Wilbur Theatre, Boston, MA, USA
28th February – 20 Monroe Live, Grand Rapids, MI, USA
1st March – Royal Oak Music Theatre, Royal Oak, MI, USA
2nd March – The Oakville Centre, Oakville, Ontario, Canada
3rd March – Kleinhans Music Hall, Buffalo, NY, USA
23rd March – Gran Teatre De Liceu, Barcelona, Spain
24th March – Kursaal, Sala de Camara, San Sebastian, Spain
26th March – Trianon, Paris, France
27th March – Kulturfabrik Kofmehl, Solothurm, Switzerland
29th March – Teatro Colosseo, Torino, Italy
30th March – Teatro Galleria, Legnano, Italy
31st March – Teatro Astro, Schia, Italy
1st April – Teatro della Conciliazione, Rome, Italy
3rd April – Posthalle, Wurzburg, Germany
4th April – Capitol, Offenbach, Germany
5th April – Amager Bio, Copenhagen, Denmark
7th April – Union Scene, Drammen, Norway
8th April – Nalen, Stockholm, Sweden
10th April – Tempodrom, Berlin, Germany
11th April – Laeiszhalle, Hamburg, Germany
12th April – Ruhr Congress, Bochum, Germany
13th April – Haus Leipzig, Leipzig, Germany
15th April – Cultuurpodium Boerderij, Zoetermeer, Netherlands
16th April – Cultuurpodium Boerderij, Zoetermeer, Netherlands
26th April – Vicar Street, Dublin, Ireland
28th April – St David's Hall, Cardiff, UK
30th April – Hexagon, Reading, UK
1st May – Symphony Hall, Birmingham, UK
3rd May – City Hall, Sheffield, UK
4th May – Colston Hall, Bristol, UK
5th May – Bridgewater Hall, Manchester, UK
7th May – Philharmonic, Liverpool, UK
8th May – Guildhall, Portsmouth, UK
10th May – Cliffs Pavilion, Southend, UK
11th May – Royal Concert Hall, Nottingham, UK
13th May – New Theatre, Oxford, UK
14th May – Corn Exchange, Cambridge, UK
16th May – Royal Concert Hall, Glasgow, UK
17th May – Sage, Gateshead, UK
19th May – Palladium, London, UK
About Steve Hackett
Steve Hackett is renowned as an immensely talented and innovative rock musician. He was lead guitarist with Genesis as part of their classic line up with Gabriel, Collins, Banks and Rutherford, who produced several of the band's most acclaimed albums including 'Selling England by the Pound' (a favourite of John Lennon) and 'The Lamb Lies Down on Broadway'. With Steve's extraordinary versatility in both his electric guitar playing and his composing, he involves influences from many genres, including Jazz, World Music and Blues. He is equally adept in his classical albums that include renditions of pieces by composers from Bach to Satie, his own acoustic guitar compositions that have gained the admiration of many, including Yehudi Menuhin, and ambitious guitar/orchestra albums such as 'A Midsummer Night's Dream', recorded with the Royal Philharmonic.
STEVE HACKETT Online:
 www.facebook.com/pages/Steve-Hackett/123101228589
 www.twitter.com/HackettOfficial
INSIDEOUTMUSIC Online:
www.youtube.com/InsideOutMusicTV
 www.facebook.com/InsideOutMusic
www.myspace.com/insideoutlabel
InsideOut Shop: