Death
Arch Enemy: guarda il video di 'Poisoned Arrow'
Comunicato stampa:
Gli ARCH ENEMY hanno pubblicato lo scorso anno il loro tanto acclamato album "Deceiver". Da oggi è disponibile il videoclip di "Poisoned Arrow", diretto da Mirko Witzki.
Il commento di Michael Amott:
"Non posso quasi crederci che stiamo pubblicando un settimo (!) video dal nostro recente album 'Deceivers'. Eppure eccolo qui, 'Poisoned Arrow', una traccia mid-tempo intrisa di melodia di chitarra e un'atmosfera complessivamente diversa rispetto agli altri singoli che abbiamo avuto.
Il video è stato girato a Berlino con il regista Mirko Witzki e la sua talentuosa equipe.
Il 2023 è cominciato ed è ora per gli Arch Enemy di tornare on the road, Nuova Zelanda, Australia, Giappone per poi tornare in Europa. Chissà dove andremo dopo, nel frattempo godetevi 'Poisoned Arrow'!".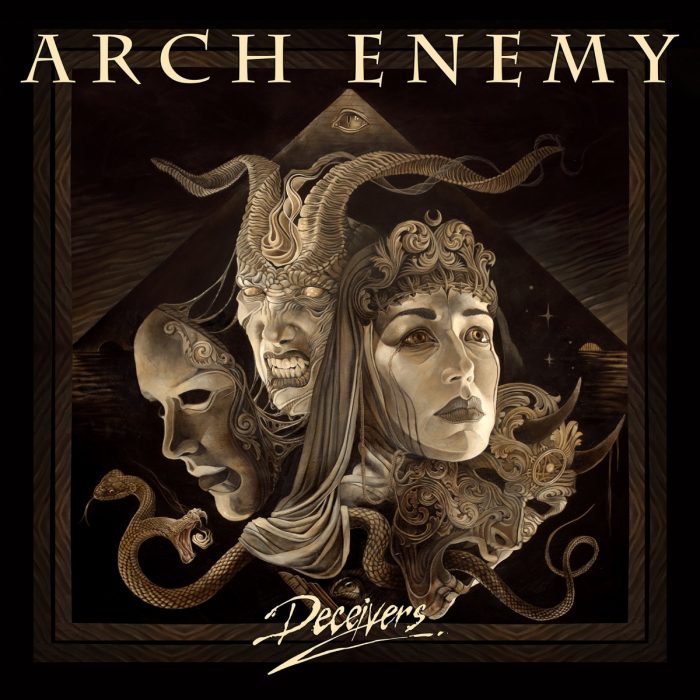 Starting this weekend, Arch Enemy will hit the road, touring the world in support of Deceivers. The quintet will first appear in New Zealand and Australia before heading to Japan; this summer, fans will have the chance to catch Arch Enemy at the biggest festivals across Europe (with more EU shows to be announced soon!). See below for all dates!
Arch Enemy New Zealand/Australia tour 2023
Feb. 12, 2023 – Auckland, NZ – Powerstation
Feb. 14, 2023 – Adelaide, AU – Governor Hindmarsh
Feb. 15, 2023 – Brisbane, AU – Tivoli Theatre
Feb. 17, 2023 – Sydney, AU – Metro Theatre
Feb. 18, 2023 – Melbourne, AU – Forum Theatre
Feb. 19, 2023 – Fremantle, AU – Metropolis
Arch Enemy Japan tour 2023
Feb. 22, 2023 – Koto City, JP
Feb. 24, 2023 – Hokkaido, JP
Feb. 27, 2023 – Aichi, JP
Feb. 28, 2023 – Osaka, JP
Mar. 1, 2023 – Fukuoka, JP
Mar. 3, 2023 – Koto City, JP
Arch Enemy EU festivals 2023
June 2, 2023 – Metalfest (CZ)
June 3, 2023 – Rock Im Park (GER)
June 4, 2023 – Rock Am Ring (GER)
June 6, 2023 – Laiterie (FR)
June 7, 2023 – La Belle Electrique (FR)
June 9, 2023 – Greenfield Festival (CH)
June 10, 2023 – Nova Rock Festival (AT)
June 13, 2023 – Le Splendid Festival (FR)
June 14, 2023 – 013 Tilburg (NL)
June 15, 2023 – Graspop Metal Meeting (BE)
June 17, 2023 – Hellfest (FR)
June 21, 2023 – Tvornica Kulture (HR)
June 24, 2023 – Alpen Flair Festival (IT)
June 25, 2023 – Rockhal (LUX)
June 29, 2023 – Provinssi Festival (FI)
June 30, 2023 – Tuska Festival (FI)
July 1, 2023 – Hard Rock Laager (EST)
July 3, 2023 – Art Factory Loftas (LTU)
July 5, 2023 – B90 Club (PL)
July 6, 2023 – Studio Krakow (PL)
July 7, 2023 – Rock Harz Festival (GER)
Aug. 6, 2023 – Rockstadt Extreme Fest (RO)
Aug. 10, 2023 – Leyendas del Rock (ES)
A collection of 11 tracks that are ruthlessly catchy and mercilessly violent, 2022's Deceivers stands toe-to-toe with the highlights of the band's storied catalogue. Roaring to life with "Handshake With Hell", Arch Enemy make it clear they are out for blood, and every track is a hit, from the moody "Poisoned Arrow" to the titanically anthemic "One Last Time". Sounding more energized than ever, the quintet is operating at the highest level, delivering a maelstrom of diamond-hard riffing wrapped around cinematic melodies, thunderous drumming and towering vocals. Arch Enemy has proved, yet again, that they are unstoppable.
Purchase and stream Deceivers now at: https://archenemy.lnk.to/Deceivers
Deceivers achieved enormous chart success in many countries and received international high praise from media!
"Arch Enemy have always been reliable, every few years dropping a solid collection of catchy, chunky melodic death with at least a handful of real bangers to chew on. With 'Deceivers', they have surprisingly managed to up their game, delivering an album that slays from start to finish and is essential listening for metalheads yearning for a soundtrack to wreck their necks to." – Kerrang!
"…the band's strongest work since 2001's 'Wages of Sin'." – Decibel Magazine
"With all the turmoil in the world, we can be happy that Swedish legends Arch Enemy are back with their long-awaited 11th album 'Deceivers' which once again raises the bar for anyone in the melodic death metal genre." – The Hard Times
"Arch Enemy are not just another metal band. They are the metal band, and if you disagree, give this record a spin." – The Aquarian
"This is great, fucking great, fucking heavy! Get it in ya earholes!" – Heavy Magazine
"(…) when listening to it twice, you begin to understand what a monster of an album you are dealing with here." – Metal Hammer (GER)
"First of all, 'Deceivers' is a record where many bands can only dream of." – Aardshok (NL)
"Not only does 'Deceivers' earn its place in one of the most reliable discographies in modern metal, it does so by being amongst the bravest and most entertaining to date." – Metal Hammer (UK)
"'Deceivers' brilliantly plays the card of diversity. Stunning production, powerful choruses; Arch Enemy know how to convince and climbs a step higher." – Rock Hard (FR)
"Once again they have turned melodic death metal upside down, proving that they are one of the greats of the genre." – La Heavy (ES)
ARCH ENEMY line-up: 
Alissa White-Gluz – Vocals
Michael Amott – Guitars
Jeff Loomis – Guitars
Sharlee D'Angelo – Bass
Daniel Erlandsson – Drums
ARCH ENEMY online:
https://www.archenemy.net/
https://www.facebook.com/archenemyofficial/
https://twitter.com/archenemymetal
https://www.instagram.com/archenemyofficial/