Death
Atrocity: guarda il nuovo video di 'Desecration Of God'
Gli Atrocity hanno pubblicato il video di 'Desecration Of God', dal loro nuovo album "Okkult III", in uscita il 20 gennaio per Massacre Records.
ATROCITY have released an official video for their latest single "Desecration Of God" today – check it out on https://youtu.be/eN1XXF-qAb0
A selection of links where you can stream the song are available on https://bfan.link/desecrationofgod-single
The song is featured on the band's upcoming album "OKKULT III", which will be released on January 20, 2023 via Massacre Records. It will be available as 2-CD media book, limited edition vinyl LP, limited edition box set as well as in digital formats. The limited edition box set contains the "OKKULT III" 2-CD media book, a flag, a patch, two postcards as well as an autograph card.
You can already pre-order the album here » https://lnk.to/okkult_III
On their new album, the band has recruited several guest musicians, such as Elina Siirala (Leaves' Eyes, Angel Nation), Zoë Marie Federoff (Catalyst Crime, Cradle Of Filth), Robse Dahn (Equilibrium) and Misstiq.
"OKKULT III" was produced, mixed and mastered by Alecander Krull, and Stefan Heilemann (HEILEMANIA) once again captured the album's atmosphere with his artwork. The Emmy Award-winning sound designer Katie Halliday ("SAW", "Stranger Things", "Star Trek: Discovery") also once again contributed sound effects to the album.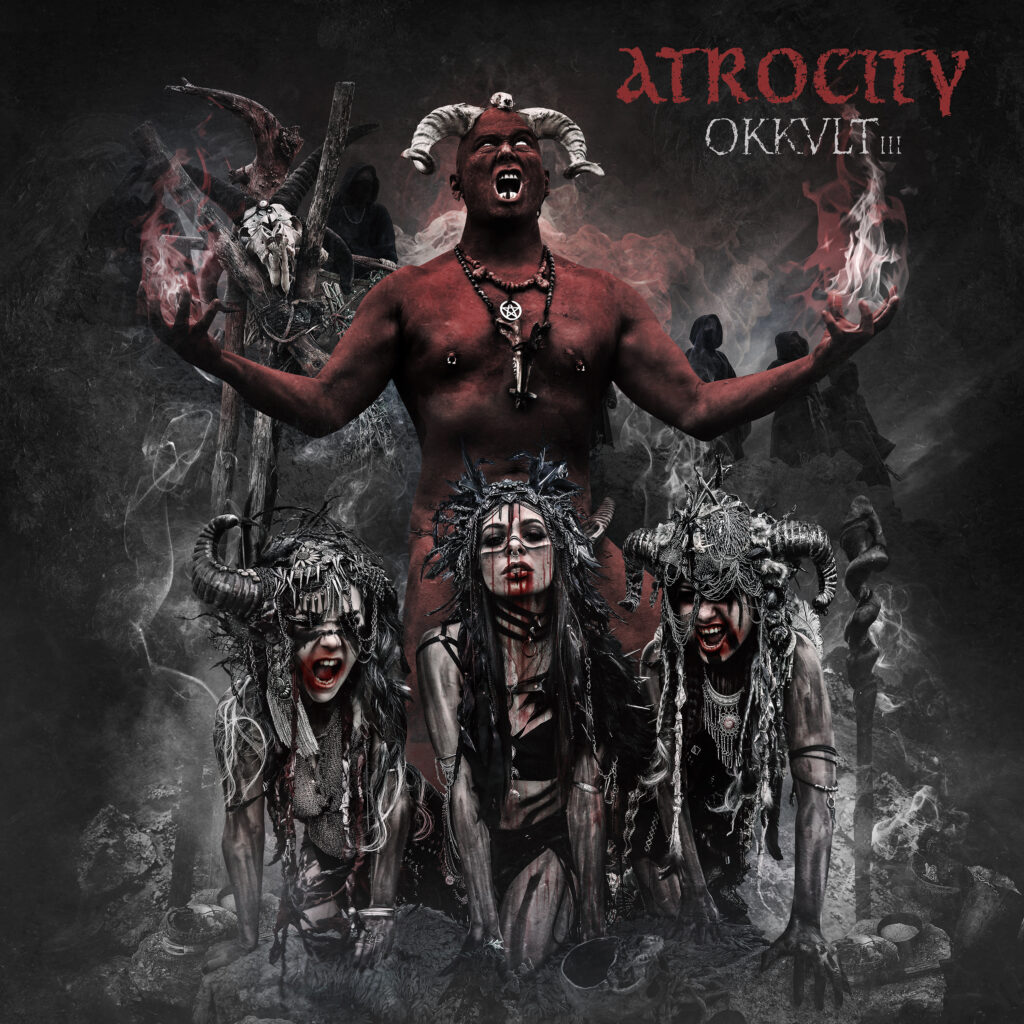 ATROCITY – OKKULT III
Pre-order » https://lnk.to/okkult_III
2-CD Mediabook

CD 1
1. Desecration Of God
2. Fire Ignites
3. Born To Kill
4. Bleeding For Blasphemy
5. Priest Of Plague
6. Malicious Sukkubus (Feat. Elina Siirala & Zoe Federoff)
7. Lycanthropia
8. Faces From Beyond
9. Cypka
10. Teufelsmarsch (Feat. Robse Dahn & Misstiq)
CD 2
1. Desecration Of God (Instrumental Version)
2. Fire Ignites (Instrumental Version)
3. Born To Kill (Instrumental Version)
4. Bleeding For Blasphemy (Instrumental Version)
5. Priest Of Plague (Instrumental Version)
6. Malicious Sukkubus (Instrumental Version)
7. Lycanthropia (Instrumental Version)
8. Faces From Beyond (Instrumental Version)
9. Cypka (Instrumental Version)
10. Teufelsmarsch (Instrumental Version)

Ltd. Vinyl LP

A-Side
Desecration Of God
Fire Ignites
Born To Kill
Bleeding For Blasphemy
Priest Of Plague
B-Side
Malicious Sukkubus (Feat. Elina Siirala & Zoe Federoff)
Lycanthropia
Faces From Beyond
Cypka
Teufelsmarsch (Feat. Robse Dahn & Misstiq)
Videos
Desecration Of God (Official Video) – https://youtu.be/eN1XXF-qAb0
Singles
(Streaming Links)
Desecration Of God – https://bfan.link/desecrationofgod-single
2-CD Media Book • Ltd. Vinyl LP • Ltd. Box Set • Digital
Death Metal
Artwork: Stefan Heilemann / HEILEMANIA
http://www.atrocity.de
https://www.facebook.com/AtrocityOfficial
https://twitter.com/atrocitypage
https://www.instagram.com/atrocity_official
https://www.youtube.com/user/AtrocityOfficial
https://spoti.fi/2IJ8F9g
Photo Credit: Stefan Heilemann / HEILEMANIA